This is a for Recipe preparing at home authentic Maharashtrian Style Godya or Sweet Pakatlya Purya (पाकातल्या पुऱ्या).  Godya Pakatlya Purya  are a famous traditional Speciality dish from Maharashtra, which are specially prepared on auspicious occasions and festivals.
The Marathi language version of this Maharashtrian Sweet Dish recipe and preparation method can be seen here – Pakatlya Purya
Sweet Pakatlya Purya (पाकातल्या पुऱ्या) Preparation Time: 30 Minutes
Serves: 20 Puries
Ingredients
For the Puri
1 Cup Wheat Atta
1 Cup Refined Flour
1 Table spoon Butter
1 Tea spoon Baking Powder
1 Cup Milk
¼ Tea spoon Orange Emulsion
Salt as per taste
 For the Sugar Syrup
2 Cups Sugar
1 Cup water
Dry Fruits for garnishing
Ghee for deep frying  the Puries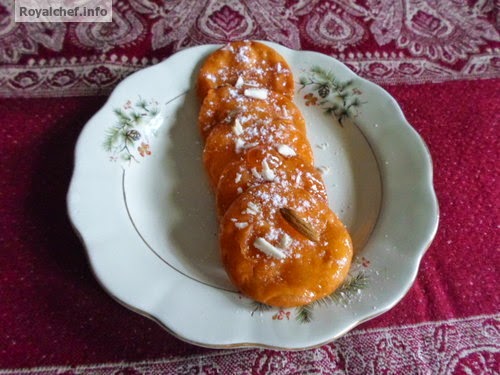 Preparation
In a Vessel add the Sugar and Water and then boil it until a little thick.
Mix the Wheat Flour, Refined Flour, Baking Powder, Butter , Orange Emulsion and salt. Then add Milk and prepare the Dough and then prepare small balls from the Dough. Roll the small balls into Puris and pork them with a knife and keep them aside.
Heat the Ghee in a Kadhai and deep fry the Puries till little bit crispy and then dip in to the Sugar Syrup for two-three minutes.
Remove the Puries from Sugar Syrup and keep them in a plate and garnish with Dry Fruits and grounded Sugar.