This is a Recipe for preparing at home authentic Maharashtrian Style Spinach or Palak Vadi (पालक वडी), this is a traditional fried Vadi preparation from Maharashtra using the Palak.
The Palak Vadi is crisp and tasty and can be served as an add-on with the mian course meals.
Ingredients
4 Cups Spinach (chopped)
1 Cup Gram Flour (Besan)
1 Table spoon Ginger-Garlic Paste
3 Green Chilies (chopped)
½ Table spoon Red Chili Powder
½  Tea spoon Turmeric Powder
¼ Tea spoon Asafoetida
Salt as per taste
1 Table spoon Oil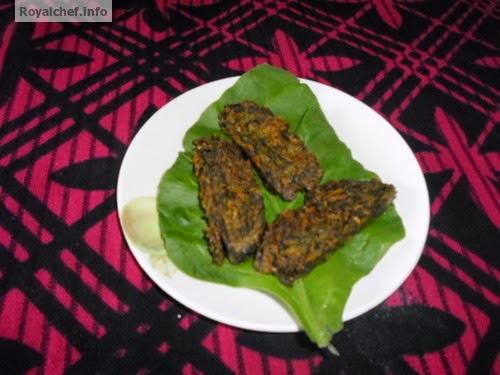 Preparation
Wash and  chop the Spinach and mix the Gram Flour, Garlic-Ginger Paste, Chopped Green Chilies, Red Chili Powder, Turmeric Powder, Asafoetida, Salt, Oil  and then prepare the a thick Dough.
Put in a Pressure Cooker and give 3 whistles. Then remove from the  Pressure  Cooker and after fifteen minutes cut in to thick slices.
Heat the frying pan and shallow fry the Spinach Vadi using the Oil.