This is a Recipe for preparing at home Spicy Gram Dal Modak or Chanadaliche Modak as they are known in the Marathi language. A spicy Maharashtrian Style Modak preparation with Chana Dal as the main ingredient.
Preparation Time: 60 Minutes
Serves: 21 Nos
Ingredients
For the Filling
1 Cup Gram Dal (Chana  Dal) (soak in Water 7-8 hrs)
1 Small Onion (chopped)
½ Table spoon Ginger-Garlic Paste
½ Tea spoon Red Chili Powder
½ Tea spoon Coriander-Cumin Seeds Powder
1 Table spoon Coconut (grated)
1 Table spoon Coriander (chopped)
Salt as per taste
For the Tadka
 ½ Table spoon Oil
½ Tea spoon Mustard Seeds
½ Tea spoon Cumin Seeds
¼ Tea spoon Asafoetida
For the Covering
½ Cup each Wheat Flour, Jawar Flour, Besan and Rice Flour
(Or you can used Thali peeth Bhajani- see the – prepararion method
½ Tea spoon Red Chili Powder
1 Table spoon Oil (hot)
Salt as per taste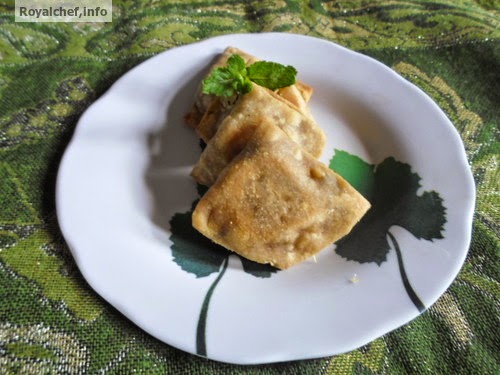 Preparation
Mix the Wheat,  Jawar, Besan, Rice Flour, Red Chili Powder, Oil, Salt and Water and then prepare a thick Dough. Give two whistles for the Gram Dal in the pressure cooker after adding some Water.
Heat the Oil in a Kadhai and add the Mustard Seeds, Cumin Seeds, Asafoetida, Onion, Ginger-Garlic Paste and fry for two-three minutes on a slow flame. Then add the cooked Gram Dal, Red Chili Powder, Salt and two table spoon Water and cook for two-three minutes on a slow flame.  Then add the Coriander, Coconut and mix it well.
Prepare small balls from the Dough and roll the small balls into Puri size shapes and fill one table spoon mixture into the Puri and fold into triangular shapes and apply a little bit of Oil over the triangular shapes.
Heat the Oven and arrange the triangular shape Modak over the non stick plate and then bake for 10 minutes or deep fry in the Oil till color changes into brown.
खमंग चना डाळीचे मोदक
साहित्य भरण्यासाठी : १ कप चना डाळ (७-८ तास भिजवावी), १ छोटा कांदा, १/२ टे स्पून आले-लसून पेस्ट, १/२ टी स्पून लाल मीरची पावडर, १/२ टी स्पून धने=जिरे पावडर, १ टे स्पून नारळ (खोऊन), १ टे स्पून कोथंबीर (चिरून) मीठ चवीने, १/२ टे स्पून तेल, १/२ टी स्पून मोहरी, १/२ टी स्पून जिरे, १/४ टी स्पून हिंग
आवरणा साठी : २ कप थालपीठ भाजणी, १/२ टी स्पून लाल मिरची पावडर, १ टे स्पून गरम तेल मीठ चवीने
कृती : थालपीठ भाजणी मध्ये लाल मिरची पावडर, गरम तेल, मीठ व पाणी घालून घट्ट मळून घ्या.
चना डाळीला कुकर मध्ये एक शिटी काढून घ्या. कढई मध्ये तेल गरम करून मोहरी, जिरे, हिंग, कांदा, आले-लसून पेस्ट, घालून थोडे परतून घ्या नंतर त्यामध्ये शिजवलेली चना डाळ, लाल मिरची पावडर, धने-जिरे पावडर, मीठ व दोन टे स्पून पाणी घालून थोडी शिजवून घ्या. नंतर कोथंबीर, नारळ घालून सारण तयार करून घ्या.
थालपीठाच्या भाजणीचे मध्यम आकाराचे गोळे करून घ्या. गोळा लाटून त्याची पुरी करून त्याचे कापून दोन भाग करा. दोन्ही भागामध्ये एक-एक चमचा सारण भरून कडेनी बंद करा व त्रिकोणी आकार द्या. असे सर्व त्रिकोण करून झाल्यावर एका ओव्हन प्लेट मध्ये थोडेसे तेल लावून सर्व त्रिकोण ठेवा प्रतेक त्रिकोणाला थोडेसे तेल लावा. ओव्हन गरम करून १०-१५ मिनिट बेक करून घ्या. जर बेक नसतील करायचे तर तळून घ्या.