This is a step-by-step Recipe for making at home authentic Maharashtrian Purana che Dind  (पूरणा चे दिंड/करंजी).  Purnache Dind-Karanji is a traditional sweet dish from Maharashtra, which is prepared using the same Puran, which is used for making Puran Poli.
Preparation Time: 90 Minutes
Serves: Pieces of Purnache Dind
The Marathi language video of this Purnache Dind [Dhonde] can be seen on our YouTube Channel: Nag Panchami Special Purnache Dind
Ingredients
For the Stuffing
2 Cup Gram Dal (Chana Dal) (wash and soak for thirty minutes)
2 Cup Sugar
1 Tea spoon Cardamom Powder
¼ Tea spoon Nutmeg Powder
2 Table spoon Cashew nuts, Almond thick Powder
10-15 Raisins
For the Covering
2 Cup Rice Flour
1 Table spoon Refined Flour (Maida)
2 Cups Water
1 Tea spoon Oil
Salt as per  taste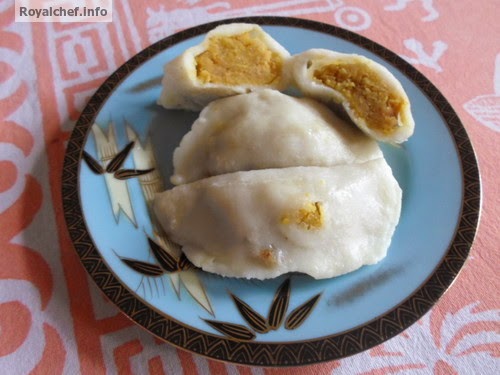 Purana che Dind  (पूरणा चे दिंड/करंजी)
Preparation
In a Pressure Cooker add Gram Dal and six cups water and give the six  to seven  whistles.  After the Dal is cooked remove the excess Water and  add Sugar, Cardamom Powder and Nutmeg Powder and then cook till it become dry.  Then add Dry-Fruits Powder and mix it well.
Boil two cups of Water in a Vessel and add Oil and salt and then add Rice Flour and Refined Flour. Mix the mixture well and cover with a plate for two-three minutes on a slow flame. Remove the mixture from the flame and prepare the Dough using cold Water.
Prepare small balls from the Dough and flatten them on the palm like a Puri and insert one table spoon  Puran and fold the Puri and close it nicel using a little bit of Water and keep it aside.
Boil the Water in another Vessel and keep a Strainer on it spread the Banana leaf on it and arrange the Puran Dind on the leaf and then cover with a Plate. Steam for ten to fifteen minutes on a medium flame.
Serve hot with Ghee.
पुरणाचे दिंड
साहित्य भरण्यासाठी :-   २ कप चना डाळ (डाळ धुऊन अर्धा तास पाण्यात भिजत ठेवा), २ कप साखर, १ टी स्पून वेलचीपूड, १/४ टी स्पून जायफळ पावडर, २ टे स्पून काजू-बदाम पावडर, १०-१५ कीस-मिस
साहित्य पारीसाठी :- २ कप तांदळाचे पीठ, २ कप पाणी, १ टी स्पून तेल, मीठ चवीनुसार
कृती : कुकरमध्ये डाळ व पाच-सहा कप पाणी घालून सहा-सात शिट्या काढा. कुकर उघडल्यावर जास्तीचे पाणी काढून घ्या. (ह्या पाण्यानी कटाची आमटी बनवता येते.) नंतर साखर, वेलचीपूड, जायफळ घालून घट्ट होई पर्यंत शिजवून घ्या. ड्राय फ्रुट घालून मिक्स करून पुरण तयार झाले.
जाड बुडाच्या पातेल्या मध्ये २ कप पाणी तापवून त्यामध्ये मीठ व तेल घालून तांदळाचे पीठ व मैदा मिक्स करून झाकण ठेवा दोन मिनिटा नंतर झाकण काढून मिश्रण परातीत काढा व थंड पाण्यानी मिश्रण चांगले माळून घ्या व त्याचे थोटे गोळे करून हातावरती थापून पुरी सारखा आकार द्या व एक टेबल स्पून पुरण पुरी वरती ठेवून नंतर पुरीला कडेनी थोडेसे पाणी लावून करंजी सारखा शेप द्या.
एका पातेल्यात पाणी गरम करून त्यावर चाळणी ठेवून त्यावर केळीचे पान ठेवून त्यावर बनवलेल्या करंजा ठेवा झाकण ठेवून दहा- पंधरा मिनिट वाफ द्या.
वरतून तूप घालून सर्व्ह करा.