This is a Recipe for preparing at home delicious Sweet Pineapple Rings or Ananas Rings, a easy, simple and tasty pineapple sweet dish.
Sweet Pineapple Rings Preparation Time: 30 Minutes
Serves: 7 Rings
Ingredients
1 Small Size Pineapple
1 Cup Rice Flour
1 Cup Sugar for Syrup
1 Tea spoon Cardamom Powder
2 Drops Orange Color
Oil for frying the rings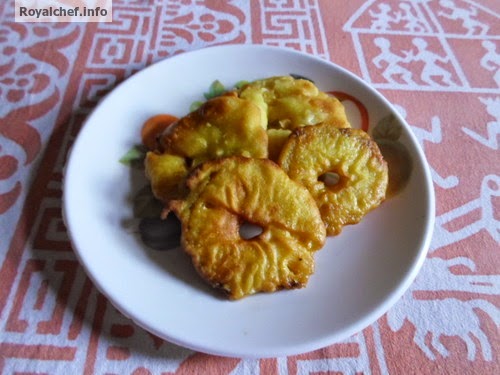 Preparation 
In a Vessel add a cup of Water and Sugar and prepare a thick Sugar Syrup on a slow flame and add Cardamom Powder.
Clean the Pineapple and cut in thin round slices and remove the central hard piece.
Heat the Oil in a Kadhai.
Mix the Rice Flour, Water and prepare a thick paste and  dip the Pineapple slices in the paste and deep fry till color change in to light brown and then dip them in the Sugar Syrup for two-three minutes and then remove from Sugar Syrup and keep them in a plate.
Serve hot.