This is a Recipe for preparing at home for Breakfast tasty Chicken Kheema Flaked Rice [Poha]. A delicious and spicy Kheema Poha or Pohe preparation, a welcome and unique variation of the Maharashtrian Pohe dish, combining the flavor of Flaked Rice with that of Minced Boneless Chicken.
This easy to understand recipe of the Chicken Keema Poha preparation will make it easy for you to  once in a while change the daily breakfast routine.
Preparation Time- 60 Minutes
Serves- 7-8 Persons
Ingredients
500 Grams Chicken Kheema
250 Gram Flaked Rice (Jada Poha)
4 Onion (chopped)
5 Green Chilies (chopped)
1 Tablespoon Ginger (paste)
1 Tablespoon Garlic (paste)
1 Teaspoon Red Chili Powder
1 Teaspoon Turmeric Powder
1 Big Lemon Juice
Salt as per taste
2 Tablespoon Oil
1 Teaspoon Mustard Seeds
1 Teaspoon Cumin Seeds
For Garnishing
Coriander
Coconut (shredded)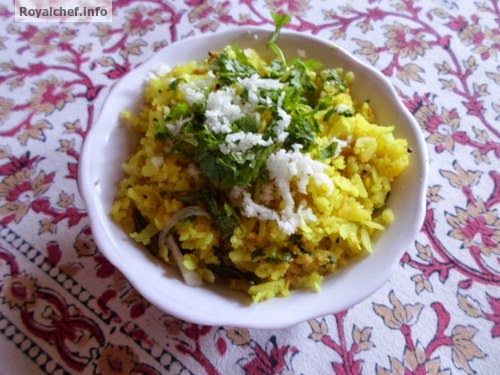 Preparation
For Kheema – Clean and wash the Kheema. Heat one tablespoon Oil in a Kadhai and then add the Kheema, Ginger-Garlic Paste and cook until dry on a slow flame.
Then add half cup Water , Red Chili Powder, Turmeric Powder, one tea spoon Lemon Juice , Salt and cook for ten minutes on a  slow flame. The Kheema should be become dry, then keep it aside.
Wash the Flaked Rice in a Strainer to drain the water and after ten minutes mix the Lemon Juice, Salt and Sugar.
Heat the Oil in a Kadhai and add Mustard Seeds, Cumin Seeds, Onion, Green Chili and then fry for five minutes on a slow flame. Then add the Turmeric Powder and cooked Kheema.  Then add the soaked Flaked Rice, Coriander, and Shredded Coconut and mix it well and cover with a plate for two-three minutes on a slow flame.
Garnish with Coriander and Coconut. Serve hot.