This is a Recipe for making at home sweet and delicious authentic Maharashtrian Style Shahi Water Chestnut Ladoo or (Singhara Peetha che Ladoo). This Singhara Flour Ladoo is a traditional Ladoo preparation from Maharashtra, which not only tastes great, but is healthy and nourishing, which is why it is also especially for Upvasache Divas or the days of fasting.
Preparation Time: 25 Minutes
Serves: 5 Ladoo
Ingredients
1 Cup Chestnut flour
½ Cup Sugar (grounded)
2 Table spoon Dry Coconut (shred and roast for a minute)
2 Table spoon Milk
½ Tea spoon Cardamom powder
2 Pinch Nutmeg powder
2 Table spoon Ghee
1 Table spoon Dry fruits thick powder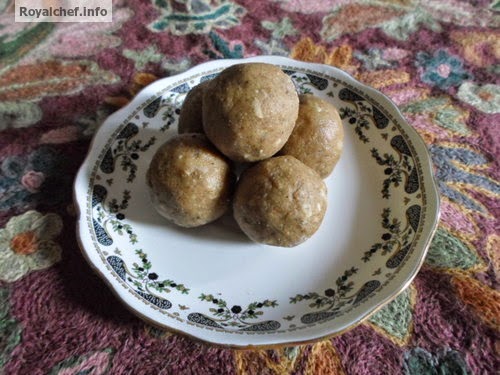 Shahi Water Chestnut Ladoo. (Singhara Peethache ladoo)
Preparation
Heat one table spoon Ghee in the frying pan and then add the Water Chestnut flour. Roast the Water Chest nut flour till color changes in to light brown.
Then add  the Milk and mix it well and roast for 2 minutes on a slow flame. After that keep it for cooling.
Then add the grounded Sugar, Cardamom powder, Nutmeg powder, Coconut, Dry fruits powder. Mix it well and then add the Ghee. Prepare small size Ladoo.