This is a simple and easy to follow Recipe for preparing at home delicious and tasty Sweet Potato Gulab Jamun, which are known as Shakarkand Ke Gulab Jamun in Hindi and Ratalyache Gulab Jamun in Marathi.
This sweet dish has been specially prepared by me for the fasting [Upvas or Vrat] days.
Preparation Time: 45 Minutes
Serves: 8-10 Jamun
.Ingredients
For Jamun
1 Big sized Sweet Potato (boiled, pealed and mashed)
¼ Cup Paneer (shredded)
1 ½  Table spoon Sago flour
Pinch of Salt
Raisin
Ghee for frying the Gulab Jamun
For Sugar Syrup
1 Cup Sugar
½ Cup Water
1 Tea spoon Cardamom powder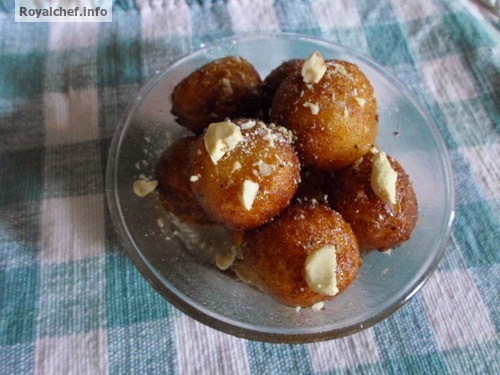 Delicious Sweet Potato Gulab Jamun
Preparation
Boil the Sweet Potato and then peal and mash them. Add shredded Paneer, pinch of Salt and the Sago flour. Mix it well and prepare the Dough. Prepare small balls from the Dough and insert one Raisin inside each of the balls.
Heat the Ghee in a Kadhai and deep fry the balls on a slow flame till color changes in to light brown.
In a another vessel add the Sugar, Water and Cardamom powder and prepare a slightly thick Sugar syrup. Then add the balls in the Sugar syrup and keep them in the syrup for 10-15 minutes.
Garnish with Dry fruits and serve.