This is a Recipe for making at home authentic Maharashtrian Style Sweet and Spicy Moth Gravy (Goda Masala chi Matki Usal).  Another traditional Maharashtrian Maharashtrian Pulses or Kaddhanya Dish for the main course.
Matki Usal Preparation Time – 30 Minutes
Serves – 4 Persons
Ingredients
2 Cup Moth (sprout)
1 Small size Onion (chopped)
5-6 Petals Garlic (mashed)
½ Tea spoon Turmeric powder
1 Tea spoon Red Chili powder
1 Tea spoon Goda Masala
1/2  Table spoon Tamarind (pulp)
1 Table spoon Jaggery
Salt to taste
1 Table spoon Coconut (shredded)
1 Table spoon Coriander (chopped)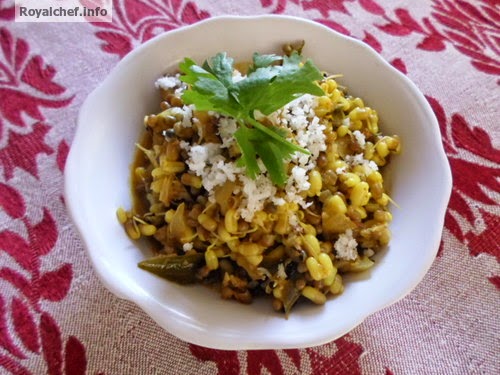 For Tadka
½ Table spoon Oil
1 Tea spoon Mustard seeds
1 Tea spoon Cumin seeds
½ Tea spoon Fenugreek Seeds (Methi Dane)
½ Tea spoon Coriander seeds
¼ Tea spoon Asafoetida
5-6 Curry Leaves

Preparation
Heat the Oil in a Kadhai and prepare Tadka and then add Garlic and Onion. Fry for 2-3 minutes and then add Turmeric, Red Chili powder, Salt , Moth and a cup of Water.  Cover with a stain less steel plate and add some Water over the plate. Cook for 10-15 minutes on slow flame.
Then add Tamarind and  Goda Masala and two table spoon of Water. Cook for 2-3 minutes on slow flame. Add Jaggery and cook for 2 minutes. The Usal should be a little watery. Then add Coconut and Coriander.Garnish with Coriander and Coconut.
Serve hot with Chapatti or Rice.