This is a Recipe for preparing at home Crispy Spicy Coriander or Kothimbir Modak. This is a dish which I have experimented, using a typical Maharashtrian style preparation method to create this spicy variation of the Modak.
Preparation Time: 60 Minutes
Serves: 10 Nos
Ingredients
For the Covering
1 Cup Refined Flour (Maida)
1 Table spoon Oil (hot)
2 Pinch Turmeric
½ Tea spoon Cumin seeds Powder
2 Table spoon Milk
Salt to taste
For the Filling
1 Cup Coriander (chopped)
½ Cup Coconut (shredded)
1 Tea spoon Ginger (chopped)
1 Tea spoon Garlic (chopped)
1 Tea spoon Green Chilies (chopped)
1 Tea spoon Poppy seeds (roasted)
½ Tea spoon Garam Masala
1 Tea spoon Oil
Salt to taste
Oil for frying Modak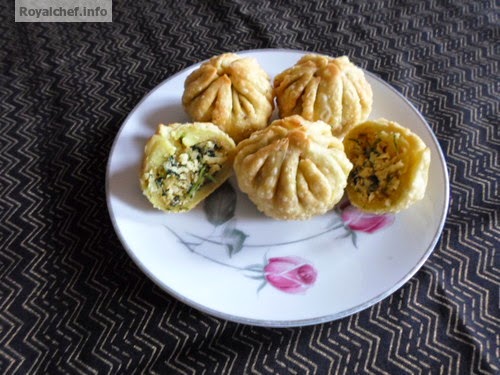 Preparation
For the Covering Mix the Refined Flour, Turmeric, Cumin seeds powder and Salt. Add Salt and hot Oil and mix it well and then add Milk and Water as required and prepare a Dough.
For filling heat the Oil in a frying pan and add the Ginger, Garlic, Green Chilies, and then fry for 1 minute on a slow flame. Then add the Poppy seeds, Garam Masala, Salt, Coconut and Coriander. Mix it well and fry for 2 minutes on a slow flame.
Prepare small balls from the Dough and roll small sized Puris and then fill a spoon of the Coriander mixture and fold the sides to give them the Modak shape. You can also use a Modak Mould to prepare the Modak.
Heat the Oil in a Kadhai and deep fry the Modak until become they crispy.
Serve Hot.