This is a Recipe for preparing at home tasty Corn Masala Puri or Makka Ki Puri in Hindi. The Corn Masala Puri is a crispy and spicy Puri preparation, which is prepared using a freshly prepared stuffing of corn niblets and grounded spices.
The Corn Masala Stuffed Puri can be served for breakfast or in the tiffin boxes of school going children.
Preparation Time: 60 Minutes
Serves: 15 Corn Masala Puris
Ingredients
For Covering
1 Cup Wheat Atta
1 Cup Refined flour (Maida)
1 Table spoon Oil (hot)
2 Table spoon Milk
Salt to taste
Water as required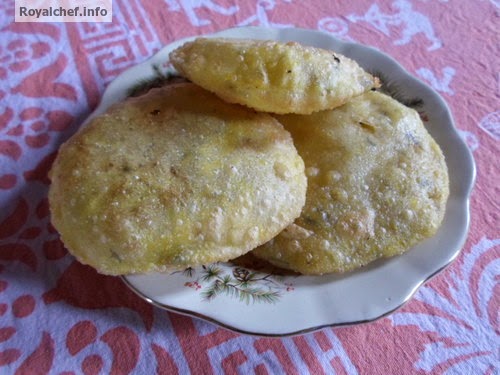 Tasty Crispy Corn Masala Puri
For Filling
2 Cups Corn nibblets (grounded or shredded)
3 Green Chilies (chopped)
1 Tea spoon Ginger paste
¼ Cup Coriander (chopped)
15-20 Mint leaves (chopped)
¼ Tea spoon Garam Masala
1 Tea spoon Lemon Juice
1 Table spoon Oil
Salt to taste
Oil for frying Puris
Preparation
For covering, mix the refined flour, Wheat Atta, Salt, hot Oil and Milk. Prepare a Dough by using the Water and keep it aside.
Heat the Oil in a frying pan and then add the grounded Corn nuggets, Green chilies, Ginger and fry for 8-10 minutes. Then add the Coriander, Mint, Lemon, Garam  Masala, Salt and fry for 2-3 minutes on a slow flame and keep it aside for cooling.
Prepare small balls from the Dough. Roll small Puris, fill a tea spoon mixture in to it, cover the Puris, and roll them again.
Heat the Oil in a Kadhai and deep-fry the Puris until color changes in to golden yellow.
Serve hot with Tomato Sauce or Mint Chutney.