This is a Recipe for preparing at home sweet and delicious Desiccated Coconut Puri. This Puri, which uses Desiccated Coconut and Khoya as the main ingredients is known as the Khawa Naralachi Puri in the Marathi language.
The Khawa Naralachi Puri can also be a useful Diwali Faral sweet dish.
Desiccated Coconut Puri Preparation Time: 60 Minutes
Serves: 15 Puris
Ingredients
For Filling
125 Gram Khoya
½ Cup Suji
¼ Cup Milk
½ Table spoon Ghee
½ Table spoon Poppy Seeds
100 Gram Desiccated Coconut
½  Tea spoon Cardamom Powder
¼ Tea spoon Nutmeg
1 Cup Sugar (powder)
For Covering
 2 Cup Refined Flour (Maida)
½ Cup Milk
Salt to taste
3 Table spoon Oil (Hot)
Water as per required
Ghee for frying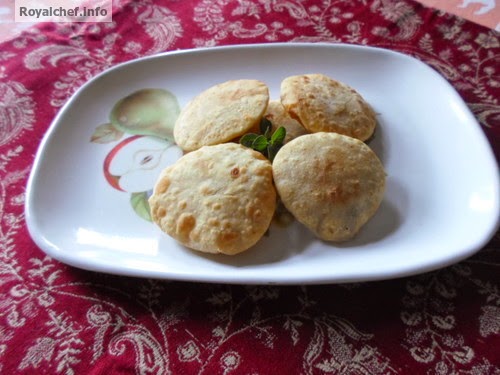 Preparation : Fry the Khoya for a  minute on a slow flame and keep it aside.
Heat the Ghee in a Kadhai and fry the Suji till colour change in to light brown and then  sprinkle the Milk and then keep for cooling in a plate.
Slightly roast the Poppy seeds and Desiccated Coconut and keep aside.
Grind Sugar and mix the Khoya,  Suji,  Poppy seeds,  Desiccated Coconut, Nutmeg, Cardamom powder and prepare a mixture.
In the Maida add the Salt, hot Oil, Milk, some Water and prepare Dough and keep it aside for 2 hours. Then prepare small balls and roll them slightly, fill ½ table spoon mixture and close the puri and roll it again.
After that heat a frying pan and roast the puri on both the sides and then keep it on a paper.
Heat the Ghee in a Kadhai and deep fry Puries until the colour change in to light brown.
The Puries are ready.