This is a Recipe for preparing tasty Mutter Puri. This is a delicious snack for breakfast. Tastes great with Chutney or Sauce.
Ingredients
1 Kg Green Peas (Mutter) (cook in Microwave for 3 minutes)
7-8 Green Chilies
1 ½ Table spoon Ginger-Garlic paste
¼ Cup Coriander (chopped)
1 Teaspoon Lemon Juice
½ Teaspoon Garam Masala
2 Tablespoon Mint Leaves (chopped)
Salt to taste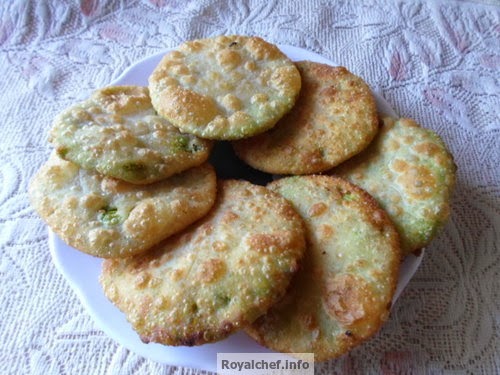 For Tadka
2 Tablespoon Oil
1 Teaspoon Asafoetida.
For Puri
2 Cup Wheat Flour
1 Cup Refined Flour (Maida)
2 Tablespoon Oil (hot)
1 Cup Milk
Salt to taste
Oil for frying Puri
Preparation
First, take Wheat Flour, Refined Flour, and Salt and then add 2 tables spoon hot Oil and mix it well. Then add Milk and some Water to prepare Dough and keep it aside for 1 hour.
Grind the Green Peas, Green Chilies, Ginger-Garlic paste and Coriander and keep it aside.
Heat Oil in the frying pan and then add Asafoetida. Then add the grounded mixture and fry it for 15 minutes on slow flame. Then add Salt, Lemon Juice and Garam Masala, Mint Leaves and cook for 2-3 minutes on slow flame.
Then prepare small balls from the Dough and prepare small Puries and keep ½-table spoon mixture on the Puris and then fold them and the roll again to make a Puri.
Heat Oil in a Kadhai and deep fry the Puries until color change in to light brown.
Serve with Sauce or Green Coconut Chutney.