This is a Recipe for preparing at home delicious Pizza Shop Style Cheese Pizza with Capsicum and Cabbage topping. A simple to understand and follow step by step procedure to prepare this kind of Pizza is given here in this article.
Ingredients
3 Pizza Base
3 Tablespoon Cheese (grated
3 Tablespoon Tomato (Ketchup)
1 Tablespoon Butter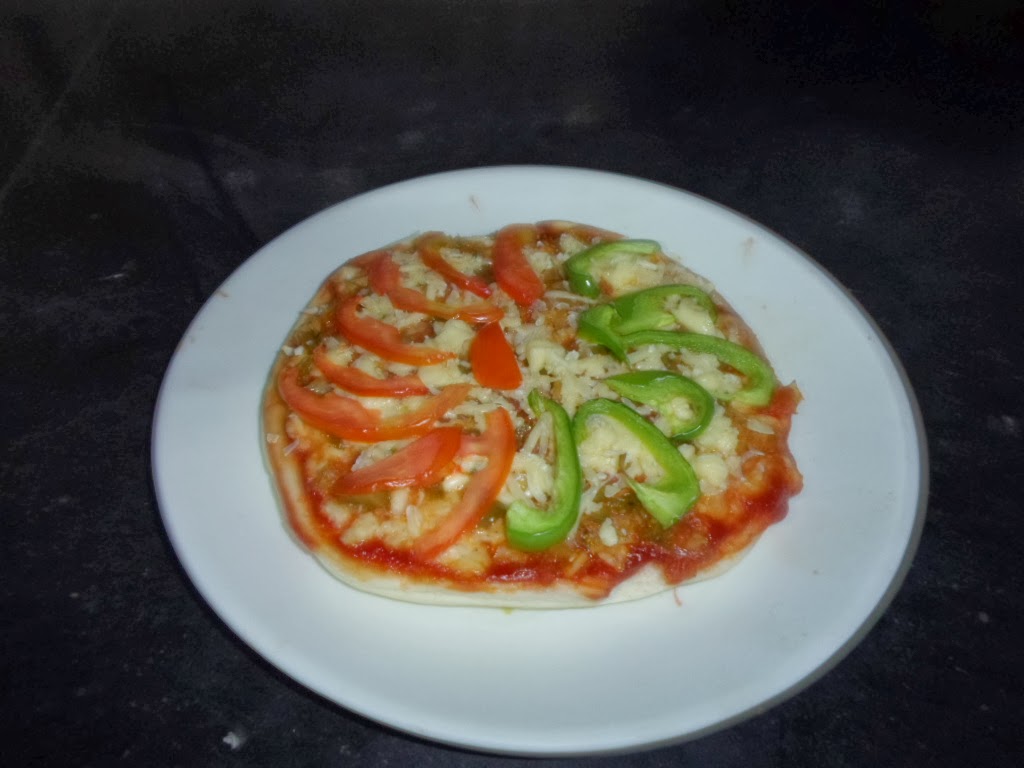 For White Sauce
1 Tea Spoon Butter
1 Tablespoon Maida
1 Cup Milk
1 Tablespoon Cheese (grated)
½ Teaspoon Black Pepper powder
Salt to taste
For Topping
1 Small size Capsicum (chopped)
1 Cup Cabbage (finely cut)
1 Cup Tomato (chopped)
1 Small Onion (chopped)
1 Teaspoon Garlic (chopped)
1 Tablespoon Butter
1 Teaspoon Black Pepper powder
Salt to taste
Preparation
For white Sauce heat Butter in a frying pan then add Maida and fry for 2 minutes on slow sim. Then add Milk slowly keep stirring for 2 minutes and then add Salt, Cheese and Black Pepper. Mix it well and keep it aside.
For Topping heat Butter in a frying pan and then add Onion, Garlic, and sauté for 2 minutes then add Capsicum, Cabbage and Tomato, mix it well and cook for 2-3 minutes. Then add Salt and Pepper, mix it well and keep it aside.
Take one Pizza base spread 1 table spoon Tomato Ketchup and then 1 table spoon White Sauce then spread 1 Table spoon Vegetable topping and shredded Cheese.
Spread 1 Teaspoon Butter on Microwave Non stick Pan and keep Pizza over the Butter.
Preheat Microwave and bake Pizza for 15-20 minutes.