This is a Recipe for preparing at home smooth and ice crystal free Ice Cream Parlour Style Tutti Fruity Ice cream. In this article I will explain a simple procedure to prepare this delicious ice- cream.
The Marathi language version of this recipe can be seen here – Tutti Frutti Recipe in Marathi
Preparation Time: 45 Minutes
Freezing Time: 4-5 Hours
Serves: 4 Persons
Ingredients
1 Litre Milk (Buffalo)
½ Cup Sugar
1 Table spoon Custard Powder
2 Drops Orange food Colour
2 Table spoon Tutti Frutti
3-4 Drops Vanilla Essence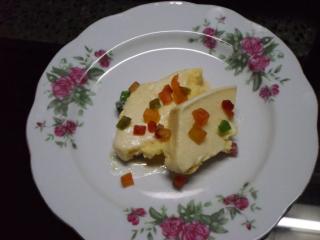 Preparation
Boil the Milk.  Remove 2 cups of boiled Milk and keep aside.
Then add Sugar in the remaining Milk. Mix it well and keep it in the Microwave and boil for 30 minutes. After that keep it aside to get cool.
Then take the 2 cups of Milk which you have kept aside, in a pot.  Remove ¼ Cup Milk for dissolving Custard powder.  After dissolving the Custard Powder add it to the rest of the 2 cups Milk and mix it well. Cook on slow flame till it thick. Keep it aside for 15-20 minutes to get cool.
When the Milk and Custard cools add the Vanilla Essence, Orange colour and blend for 1 minute in a Mixture- Grinder.
Take a aluminum Container and pour the mixture in to the aluminum container add some Truty Frutti and cover with aluminum plate. Keep the container in the refrigerator for 5-6 hours.