This is a Recipe for Karlyache Lonche (Bitter Melon). A Maharashtrian Pickle recipe; for those who love the bitter and sour taste.
Preparation Time: 30 Minutes
Serves: 4 persons
Ingredients
2 Big Bitter Melon (cut in round pieces)
2 Table spoon Mirchi Lonche masala
1 Table spoon Lemon Juice
Salt to taste
For Tadka
2 Table spoon Oil
1 Tea spoon Mustard seeds
1 Tea spoon Turmeric
¼ Tea spoon Asafetida
1 Tea spoon Red Chili powder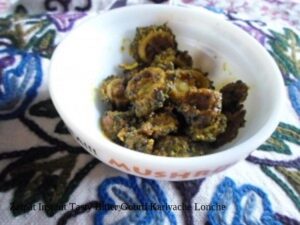 Preparation
Wash and cut Bitter Melon in to round slices.
Heat the Oil in a frying pan and then add Mustard seeds, Asafetida, Turmeric, Red Chili powder, Salt and then add Bitter Melon slices, mix it well and cover with lid and cook on slow sim for 8-10 minutes.
Then add Mirchi Lonchemasala and Lemon juice and then cook for 3-4 minutes on slow sim. Can be served immediately; does not require seasoning.
The Video of this Recipe can be seen here: Maharashtrian Style Karlyache Bitter Gourd Lonche 
The text recipe in Marathi Language can be seen here: Instant Tasty Spicy Karlyache Lonche