This is a most simple step-by-step Recipe for making at home typical Fast-Food Stall Style Ragda Patties. Ragda Patties is one of the more popular and famous of the Indian Fast-Food dishes, which is readily available in most localities in all Indian towns, cities and rural areas.
The Marathi language version of this Fast-Food recipe and its preparation method can be seen here – Tasty and mouthwatering Ragda Patties
Preparation Time: 60 Minutes
Serves: 4-5 Persons
Ingredients
8 Potatoes
5 to 6 Bread slices, Corner removed
Pinch of Turmeric
Salt
Jeera
Ragda Usal
Green or white Peas two bowls
1 Big Onion
2 Tomatoes
Garam Masala
Coriander
Coconut
Salt
Sugar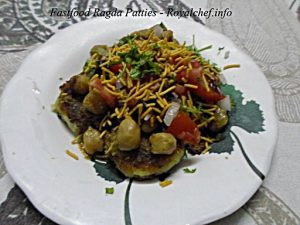 Preparation
Steam the Peas. After it give baghar to usal and add chopped Onion and Tomatoes.
When it starts emanating an aroma add green Peas, water, salt and Sugar to taste.
For Patties mash the Potatoes add the Bread, Salt, Turmeric powder, Jeera and then mix all this and grind it in a mixer.
Make round balls, flatten them, keep them on the frying pan and add little Oil.
When they become brown, serve them with usual. Coconut, Coriander, Sev and Onion. Peel 2-3 drops of lemon juice. If you wish add chat masala.