This Recipe is for preparing at home soft and delicious typical Mithai Shop Style soft and delicious Gulab Jamun. This is a Sweet dish, which is very popular all over India and is prepared on festive occasions.
The Marathi language version of the same Khava Gulab Jamun recipe can be seen here – Delicious Khava Gulab Jamun
Preparation Time: 60 Minutes
Serves: 40 Nos
Ingredients
500 gram Khoya [whole dried milk]
1 cup thick Suji [a type of Semolina]
750 gram Sugar
½ Tea spoon Rose Essence
½ Table spoon Green Elaichi powder (Cardamom)
1 Pinch Soda
Ghee for deep fry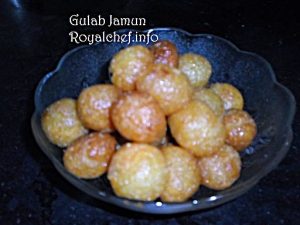 Preparation
First take Khoya and either shred or grind it in a mixer and then add Suji and Soda to the mixture.
Then mix it nicely and prepare the Dough and keep aside for 30 minutes,
In a frying pan take Sugar and add ½ cup water and boil, this is the Syrup After that add Cardamom powder to it.
Then prepare about 50 small balls and one by one deep fry them in the Ghee on a slow sim till color change in to light brown and then put the fried ball in to the Syrup.