This is a recipe for making at home sweet and crispy Gulachya Kapnya. Gulachya Kapnya is a traditional Maharashtrian sweet dish or snack, which appears like a larger version of the more famous and popular Shankarpali.
This dish is prepared using Jaggery, Besan and Wheat Flour as the main ingredients and it is specially prepared during the month of Ashadh in Maharashtra.
Gulachya Kapnya can also be prepared as a part of the annual Diwali Faral snack.
The Marathi language video of this Ashad Special Gulachya Kapnya can be seen on our YouTube Channel: Maharashtrian Traditional Wheat And Jaggery Kapanya
Preparation Time: 60 Minutes
Serves: 5-6 Persons
Ingredients
2 Cups Wheat Flour
1 Cup Gram Flour (Besan)
1 ½ Cup Jaggery
2 Teaspoon Fennel seeds
1 Teaspoon Dried Ginger Powder
2 Teaspoon Poppy Seeds
½ Teaspoon Nutmeg Powder
2 Tablespoon Hot Oil
Salt as per taste
¼ Teaspoon Baking Soda
Oil for frying the Gulachya Kapnya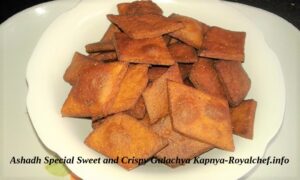 Preparation: In a bowl add the Jaggery and ½ cup Water and mix it well until the Jaggery dissolves well in Water. Dry roast the Fennel Seeds and roughly grind them. Prepare a powder of the Nutmeg and Dried Ginger.
In another big size bowl add the Wheat Flour, Gram Flour and Salt and then mix it well. Add the grounded Fennel, Poppy Seeds, Nutmeg, Ginger Powder and 2 tablespoon hot Oil, Baking Soda to the Jaggery mixture and mix it well.
Then, pour the Jaggery Water mixture into the Wheat Flour and mix it well. Then, knead to make a soft Dough and keep it aside for 10 minutes.
Divide the Dough into 3 equal portions. Take one portion of Dough and roll it like a chapati, it should be slightly thick. Then cut the chapati into Diamond size shape. Roll the remaining Dough and cut it into Diamond size shapes using the same procedure.
Heat the Oil in Kadai and deep fry the Diamond cuts until the color changes into golden brown. Then keep them on a Paper Napkin for some time. Now the Gulachya Kapnya is ready for serving.
After the Gulachya Kapnya cool down, store them in an air tight container.
The Article of Gulachya Kapnya in Marathi Language can be seen here: Ashadh Special Sweet and Crispy Gulachya Kapnya