This is a step-by-step and easy to implement recipe for making at home the famous and popular Bombay Karachi Halwa. This recipe tells you how to make this sweet, delicious and glossy Mithai using wheat flour and just 2 table-spoons Ghee.
This glossy and bright colored Halwa can be prepared within 20 minutes, which is quite useful if you are hard pressed for time and have to prepare a sweet dish quickly using ingredients that are already there in your kitchen.
The Marathi language video of this Wheat Flour Bombay Karachi halwa can be seen on our YouTube Channel: Zatpat Wheat Flour Bombay Karachi Halwa Recipe
Preparation Time: 20 Minutes
Serves: 4 Persons
Ingredients
½ Cup Wheat Flour
½ Cup Corn Flour
1 Cup Sugar
2 Tablespoon Ghee
1 Teaspoon Lemon Juice
½ Teaspoon Cardamom Powder
1 Tablespoon Magaz Seeds
2 Tablespoon Dry fruit (Cashew nut, Pista)
2-3 Drops Green Edible Color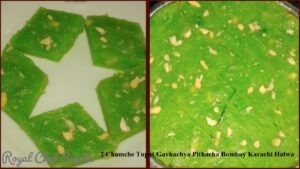 Preparation: Take a Bowl and add ½ Cup Wheat Flour and 1 ½ Cup Water and mix it well and keep it aside for an hour. After one hour remove the excess Water and keep the Wheat Flour batter aside. In another bowl add the Cornflour and a cup of water and mix it well and keep it aside.
In a Pan add the Sugar and ½ cup Water and keep it on a slow flame for making the Sugar Syrup. Keep stirring until the Sugar dissolves completely and starts boiling. Remove the Pan from the flame.
Then, add the Wheat Flour mixture slowly into the Sugar Syrup and keep stirring. Then, add the Cornflour mixture slowly and keep stirring. Mix it will and keep the Pan on a slow flame for making the Halwa. Keep stirring until the mixture starts to thicken.
Then, add the Ghee, Cardamom Powder, a few Magaz Seeds and Dry Fruit and mix it well until the Ghee is well absorbed. Once the mixture turns glossy then, add 2-3 Drops of Green Edible Color and mix it well.
Grease a stainless steel plate or tray with the Ghee and transfer the mixture in that plate and spread it evenly and sprinkle the remaining Magaz Seeds and Dry Fruit. Keep the Plate aside for 30 minutes. Once the Halwa is set completely, cut it into medium size pieces. And then, transfer it into air a tight container and keep the container in the refrigerator. You can enjoy this Halwa for 8-10 days.
The text Recipe of Bombay Karachi Halwa in Marathi Language can be seen here: Delicious Wheat Flour Bombay Karachi Halwa