This is a Recipe for making at home spicy and Masaledaar Restaurant or Dhaba Style Tandoori Chicken in a Microwave Oven.
This simple and easy to follow step-by-step recipe will enable you to prepare at home crispy Tandoori Chicken at home, which will taste like the ones prepared in Tandoori Barrels or Drums that are used in Dhabas and Restaurants that normally make the use of charcoal.
This Tandoori Chicken makes a standalone Starters Snack or it can also be a part of the main course.
Preparation Time
Marination Time: 60 Minutes
Baking Time: 10Minutes
Grill Time: 20 Minutes
Serving: 4 Persons
Ingredients
8 Pieces Chicken (big size)
1 Tea spoon Chat Marsala
1 Teaspoon Oil
Few drops edible red Color
For Marination
2 Teaspoon Ginger Paste
2 Teaspoon Garlic Paste
2 Teaspoon Green Chili Paste
2 Tea spoon Lemon Juice
2 Tea spoon Red Chili Powder
२ Tea spoon Kashmiri Red Chili Powder
1 Tea Spoon Tandoori Chicken Masala
Salt as per taste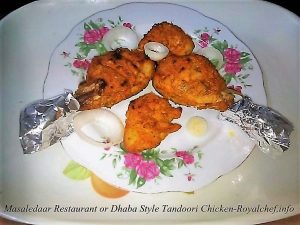 Preparation
First wash the Chicken pieces and make diagonal incisions all over them.
In a mixing bowl, add the Ginger-Garlic-Green Chili Paste, Lemon Juice, Red Chili Powder, Tandoori Chicken Masala, Salt and mix it well and prepare a mixture.
Apply the mixture over the Chicken pieces and refrigerate for 1 hour.
Arrange the Chicken pieces over the safe flat plate and then per-heat the oven. After pre-heating the oven insert the Chicken plate and set the Microwave on convection mode at 230 degree for 10-12 minutes and bake the Chicken. In between turn the Chicken pieces.
After baking the Chicken pieces remove the plate from the Oven and apply the Oil over the Chicken pieces. Then put the Chicken pieces over the high rack.
Set the Microwave on Grill for 15-20 minutes and then insert the rack in to the Microwave and grill the Chicken pieces and in between turn the Chicken pieces. Remove the rack from the Microwave and arrange the Chicken pieces in a plate. Sprinkle the Chat Masala over the Chicken pieces,
Serve hot Tandoori Chicken Pieces with Onion slices.
The video in Marathi of this Homemade Tandoori Chicken Recipe can be seen on our YouTube Channel – https://www.youtube.com/watch?v=nnkaOyql9rU