This is a Recipe for making at home spicy and delicious Chicken Koliwada Gravy. You might have herd about the more famous and popular Koliwada Fish or Prawns Curries, this Chicken Koliwada is also prepared using the same Masala, having the same aroma and flavor.
The Marathi language version of this Chicken Koliwada recipe can be seen here- Masaledar Chicken Koliwada
Preparation Time: 45 Minutes
Serves: 4 Persons
Ingredients
400 Grams Chicken
1 Medium size Onion (chopped)
1 Tablespoon Ginger-Garlic Paste
1 Tablespoon Oil
1 Cup Coconut (shredded)
1 ½ Teaspoon Kashmiri Red Chili Powder
1 Teaspoon Garam Masala
2 Teaspoon Koliwada Masala
¼ Teaspoon Turmeric Powder
Salt as per taste
For the Koliwada Masala (slightly dry roast and then grind)
1 Bay Leaf
3-4 Red Dried Chili
1 Teaspoon Poppy Seeds
1 Teaspoon Saunf
1 Teaspoon White Sesame Seeds
3-4 Cloves
1 Black Cardamon
4 Green Cardamon
1" Cinnamon Piece
1 Star Anise [Chakra Phool]
A small Piece Nutmeg
1 Teaspoon Jeera
4-5 Pepper Corns
1 Teaspoon Coriander Seeds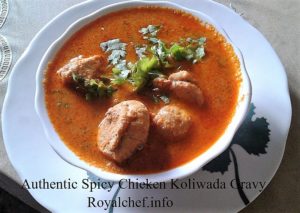 Preparation
First clean and wash the Chicken pieces and keep them aside.
Chop the Onion, Coriander Leaves and keep them aside.
Dry roast the Koliwada Masala and then grind in a mixer. Grind the Coconut into a fine paste.
Heat the Oil in a Kadai and add the chopped Onion, Ginger Garlic Paste and saute for 2-3 minutes.
Then add the Turmeric Powder, Kashmiri Red Chili Powder, Salt and Chicken pieces, mix it well and cover the Kadai with a lid and cook on a slow flame for 5-7 minutes.
Remove the lid and add the grounded Koliwada Masala, Garam Masala, grounded Coconut, 2 cups Water and mix it well.
Cover the Kadai with a lid and cook for 15 minutes on a slow flame.
Garnish with Coriander Leaves.
Serve the Koliwada Chicken Gravy with Paratha or Bhakri.