This is a Recipe for making at home sweet and delicious Bombay Badam Halwa also called Bombay Badam Mithai or Cornflour Halwa.
The Marathi language version of the same Halwa Recipe can be seen here – Bombay Almond Halwa
Preparation Time: 25 Minutes
Serves: 20 Pieces
Ingredients
For the Mixture
1 Cup Corn Flour
3 Cups Water
For the Sugar Syrup
2 ½ Cup Sugar
2 Cups Water
For the Halwa
½ Tablespoon Lemon Juice
4-5 Drops Red or Yellow color
Few Cashew nuts pieces
1 Teaspoon Cardamom Powder
¼ Cup Ghee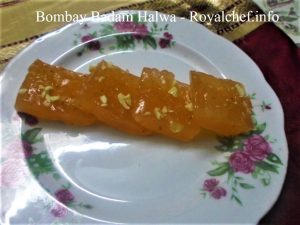 Preparation
For the Sugar Syrup: In a Kadai mix the Sugar and Water on a medium size flame. Keep stirring the mixture for 5 minutes.
For the Mixture: In a bowl add the Water and Cornflour and mix it properly until the Corn Flour is fully dissolved.
For the Halwa: When the Sugar Syrup is ready add the Corn Flour mixture into it and mix it well. Keep stirring until the mixture become thick. It will take roughly 15 minutes for the preparation of the thick mixture.
Then add the Lemon Juice, mix it well and add the Red or Orange Color and Cardamom Powder, Cashew nuts Pieces, Pistachio Pieces again mix it well. Add the Ghee slowly and keep stirring it. After 2-3 minutes pour the mixture into the stainless steel tray or any mold, garnish with Cashew nuts Pieces and keep it aside for cooling.
After cooling the Bombay Badam Halwa cut into medium size pieces.