This is Recipe for making at home Chinese Style Potato or Aloo Ki Sabzi. This is a vegetable preparation, in which the potatoes are sliced like French Fries and the gravy is basically made up of sauces.
The Marathi language version of the same Chinese Vegetable preparation can be seen here – Chinese Batata Bhaji
Preparation Time: 25 minutes
Serves: 4-5 Persons
Ingredients
4 Big size Potatoes
1" Ginger Piece (chopped)
8-10 Garlic Petals (chopped)
3-4 Green Chilies (chopped)
For the Gravy
½ Tablespoon Tomato Ketchup
1 Tablespoon Soya Sauce
½ Tablespoon Chili Sauce
2 Tablespoon Cornflour
½ Cup Water
Salt as per taste
½ Cup Oil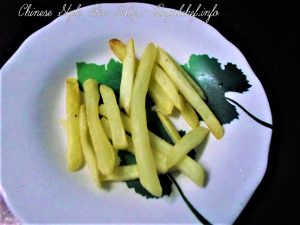 Preparation
Wash the Potatoes and cook them until they are 70-75% done.
Peal and cut them into fingers.
Chop the Ginger-Garlic-Green Chilies.
Heat the Oil in a frying Pan and add the Potato fingers, fry them for 2-3 minutes on a medium size flame and keep them aside.
In a same frying pan add the Ginger-Garlic-Green Chili and saute for few seconds, then add the Potato fingers, Tomato Ketchup, Soya Sauce, Chili Sauce, Salt.
In ½ cup Water mix the Cornflour and add into Potato fingers and cook them for 2 minutes.
Serve hot with Rice or Bread.