This is a Recipe for making at home sweet and delicious Rice Payasam. This is a traditional Kheer from South India, especially the states of Andhra Pradesh and Karnataka. The recipe given in this article uses rice as the main ingredient along with milk and coconut kernel.
The Marathi language version of the same Paysam recipe can be seen here – Rice Payasam
Preparation Time: 20 Minutes
Serves:4 Persons
Ingredients
500 Milliliters Milk
2 Tablespoon Rice
¼ Cup Sugar
1 Teaspoon Cardamom Powder
3 Tablespoon Tender Coconut Kernel (Coconut Malai)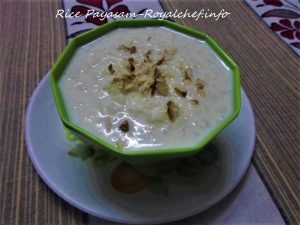 Preparation
Boil the Milk in a shallow pan on a slow flame and add the Rice.
Cook the Rice on a slow flame until it is done.
Then add the Sugar and stir until the Sugar dissolves.
Remove from heat and keep it aside for cooling.
When the Payasam cools down add the kernel of Tender Coconut.
Refrigerate till the serving time.
Garnish with dry fruits.
Serve chilled.