With the unabated pressure of studies and examination on students, which is increasing by the day, I have tried to compile a list of some divine Hindu Mantras that are believed to sharpen the brain, mind, memory power, grasping capacity of students, especially young children. These Mantras are said to be most useful to students and have been attributed with the powers to enhance and improve their learning skills and help them is getting success in their exams.
In selecting these Mantras, my main focus was not only on the power and potency of the Mantras but also the ease with which they can be pronounced and chanted by young children.
Attempting to make small children chant long and complicated Mantras, Slokas and Stotras will not prove to be beneficial, it will only make them bored and tired and they will chant these Mantras, like any other unavoidable boring school lesson.
I have selected 4 Hindu Mantras, which, I think will prove to be most effective, if chanted with sincerity and dedication. I am of the opinion that anyone of the 4 Mantra Chants should be selected and chanted every day, the student should not be made to count the Mantra Chants and only be advised to concentrate upon the Mantra and nothing else. 10 to 15 minutes of regular chanting daily will prove to be extremely beneficial in the long run.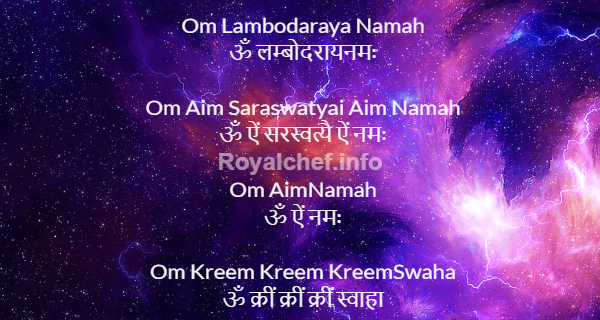 The first of the Mantras is that of Ganesha, it is a very useful Mantra Chant dedicated to Ganapati as the Lambodaraya or the "large bellied one". The large belly signifies the Cosmos and by chanting the Mantra, one become one with the Cosmos. This is an all-round Mantra, which apart from imparting knowledge and enhancing the learning skills of students is also a great Mantra to usher in auspiciousness and good fortune into your lives and remove the obstacles and problems that are plaguing you.
The second and third Mantras are dedicated to Saraswati Devi, the Hindu Goddess of arts, wisdom and everything that is connected learning and gathering of knowledge and skills. These are most powerful Mantras containing the Beej or Root Mantra "Aim" of Saraswati Mata.
The fourth Mantra is comprised of the "Kreem" Beej, which is the great sound of transformation or change. It is also a Shakti Beej that has been attributed to the Mother Goddess Kali Mata. It is also connected to the Kundalini Shakti and has been attributed with the powers On energizing the Third Eye or Ajna Chakra, which is located between the eye-brows.