This is a Recipe for making at home health and nutritious Mixed Vegetable Paratha, which is prepared using Carrots, Cauliflower and Cabbage as the main ingredients.
This Mixed Sabji stuffed Paratha can be served for breakfast, the main course meals or in the tiffin-boxes of school going children.
The Marathi language version of the same Paratha recipe can be seen here – Mix Veg Paratha
Preparation Time: 45 Minutes
Serves: 6-8 Paratha
Ingredients
2 Cups Wheat Flour
1 Tablespoon Gram Flour (Besan)
¼ Cup Cabbage (shredded)
¼ Cup Cauliflower (shredded)
¼ Cup Carrot (shredded)
¼ Cup Coriander Leaves (chopped)
¼ Teaspoon Turmeric Powder
¼ Teaspoon Red Chili powder
¼ Teaspoon Asafoetida
¼ Teaspoon Cumin Seeds (crushed)
1 Tablespoon Oil (hot)
Salt as per taste
Oil or Ghee for frying the Paratha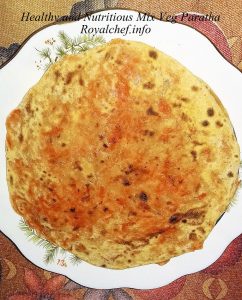 Preparation
Wash the Cabbage, Cauliflower, Carrot and shred them.
Wash and chop the Coriander Leaves.
In a big sized bowl mix the shredded Vegetables, Coriander Leaves, Turmeric Powder, Red Chili Powder, Asafoetida, Cumin Seeds, hot Oil and add enough Water to prepare a thick Dough.
Then prepare 6-8 equal sized balls from the Dough.
Heat the non stick pan.
Roll a Dough Ball like a Chapati shape and roast it with Ghee or Oil until it becomes crispy.
Prepare remaining Parathas using same procedure.
Serve hot with Chutney or Tomato Sauce.