This is a very simple recipe to make at home typical restaurant or Dhaba Style tasty and delicious dried chicken pieces. The Fried Murg Pieces are golden brown and crispy and make a great main course chicken dish, which is most suitable for any kind of party.
Preparation Time: 45 Minutes
Serves: 5-6 Persons
Ingredients
1 large sized chicken-cut into medium sized pieces
1 tablespoon vinegar
1 tablespoon soya sauce
2 tablespoon seasoned corn-flour [normally prepared by mixing salt, pepper powder with the flour]
½ teaspoon green chili paste
½ teaspoon ginger paste
a pinch of ajinomoto
Salt as per taste
oil to shallow fry the chicken-ca few pieces of lemon cut into rings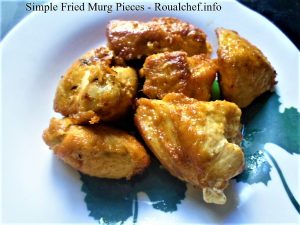 Preparation
Marinate the chicken pieces in the vinegar, soya sauce, ajinomoto, ginger paste and green chili paste and then prick the chicken pieces with a fork or a thin pointed object, this is essential to make the chicken pieces absorb a little bit of the marinade ingredients.
Then heat the oil in a frying pan and take out the chicken pieces one by one from the marinade and roll in the seasoned flour and fry in the hot oil until they turn crispy and golden brown.
Serve hot with wedges of lemon.