This is a Recipe for making at home healthy and nutritious Tomato Beetroot Soup. This soup is rich in Vitamin content, especially Vitamin A, B and C along with Iron and Starch. The Tomato-Beetroot Soup is nourishing and revitalizing and especially suitable for sick and ailing persons and growing children.
The Marathi language version of the same soup recipe can be seen here – Tomato-Beetroot Soup
Preparation Time: 30 Minutes
Serves: 4 Persons
Ingredients
4 Big size Tomatoes
1 Big size Beetroot
1 Medium size Onion
6-7 Garlic Petals (chopped)
8-10 Black Pepper Corn
1" Cinnamon piece
3 Cloves
2 Green Cardamom
2 Tablespoon Butter
Salt as per taste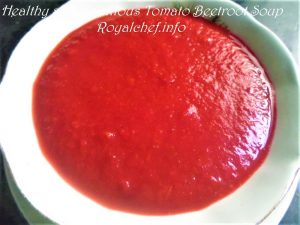 Preparation
Wash and chop the Tomatoes and Beetroot.
Chop the Onion.
Heat the Butter in a pressure cooker and add the chopped Onion, Garlic, Black Pepper Corn, Cinnamon, Cloves, Cardamom and saute for a minute.
Then add the chopped Tomatoes, Beetroot, Salt, 2 cups of Water and close the lid of pressure cooker and let it cook until you get two-three whistles of the pressure cooker.
Remove the lid of pressure cooker and pour the mixture in a bowl for cooling.
After cooling, grind the mixture grind finely.
Pour the mixture into a non stick pan and add a cup of water, mix it well and boil for two minutes.
Serve the Tomato-Beetroot Soup hot.