This is a step-by-step recipe for making at home tasty and delicious Chicken Aloo Gobi Gravy. This is a thick stew like Chicken Gravy, which apart from the Chicken makes the use of Cauliflower and Potatoes as the main ingredients.
The Chicken-Cauliflower- Potato Gravy is a main course Chicken dish, which goes very nicely with Chapattis, Puris and Fried Rice.
Preparation Time: 60 Minutes
serves: 4-5 Persons
Ingredients
1 Kilogram Chicken
3 big sized Potatoes
1 Onion
½ teaspoon Ginger
3 cloves Garlic – crushed
1 small sized Cauliflower
½ teaspoon Red Chili Powder
1 teaspoon Salt
30 grams Ghee-Vanaspati
500 Milliliters Coconut Milk – Nariyal Ka Doodh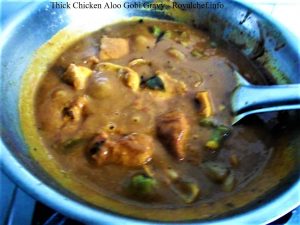 Preparation
Wash and cut the Chicken into medium sized pieces.
Then, boil and cut the Potatoes into large pieces[1 potato 4 pieces].
Slice the Onion.
Cut the cauliflower into very small sized pieces.
Heat the Ghee in a Kadai and add the Sliced Onions and fry until you get a creamy color.
Then, add the Ginger, Garlic, Red Chili Powder and fry until they smell cooked.
Add the Chicken Pieces and cook until they are browned, keep stirring to prevent them from sticking to the bottom of the Kadai.
Then, add about 750 Milliliters warm water and the salt and let it simmer.
When the Chicken is half cooked add the Cauliflower and Coconut Milk.
Then, after 10 minutes add the Potatoes and cook until the Cauliflower and Potatoes are cooked.
Remove from the flame, when about 150 Milliliters of the gravy remains.
Serve hot with Parathas or Rice.