This is a step-by-step Recipe for making at home sweet and delicious Mango Stuffed Rasmalai for Desset. This variant of the Rasmalai, which is a most famous and popular Bengali Mithai has been prepared by me by stuffing Hapus and Alphonso Mango pieces inside the Rasgullas.
The Marathi language version of the same Rasmalai recipe can be seen here = Ambyachi Rasmalai
Preparation Time: 45 Minute
Serves: 4-6 Persons
Ingredients:
For the Rasgulla:
1 Cup Fresh Paneer
1 Cup Whole Dried Milk (Khoya/Mava)
2 Tablespoon Milk Powder
1 Teaspoon Cardamom Powder
1 Cup Mango Pieces
For the Milk:
½ Liter Milk
½ Cup Sugar
1 Cup Mango Pulp
¼ Cup Fresh Cream
½ Cup Mango Pieces
Dry Fruits for garnishing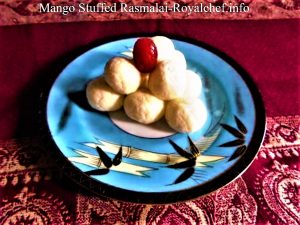 Preparation:
For the Milk: Mix the Milk and Sugar and boil it for 10 minutes on a slow flame.
After boiling the Milk keep it aside for cooling.
Then add the Mango Pulp, Fresh Cream, Mango pieces, mix it well and keep it in the refrigerator for cooling.
For the Rasgulla: Shred the Paneer, Khoya and mix it well.
Then add the Milk Powder, Cardamom Powder and prepare a soft Dough.
Prepare 15 equal sized balls from the Dough, while preparing balls insert the Mango pieces into the balls and close them nicely.
After preparing all balls put them into the Milk preparation and again put it into the refrigerator for chilling.
Serve cool. While serving garnish with Dry Fruits.