This is a Recipe for making at home crispy, sweet and delicious authentic Maharashtrian Style Dates or Khajur Satori. This sweet Satori is made using stuffing, which has Seedless Dates as the main flavoring ingredient and is shaped like a Small Puri. The Dates Satori can also be a part of the annual Diwali Faral or prepared as a stand-alone snack.
The Marathi language version of the same Satori recipe can be seen here – Khajur Satori
Preparation Time: 60 Minutes
Serves: 20 Nos
Ingredients: 
For the Covering:
1 ½ Cups Refined Flour (Maida)
1 ½ Cups Wheat Flour
3 Tablespoon Oil (hot)
Salt as per taste
Ghee for frying the Satori
For the Stuffing:
1 Cup Seedless Dates
1 Cup Gram Flour (Besan)
1 Cup Sugar (grounded)
2 Tablespoon Poppy Seeds
½ Cup Dry Coconut (shredded)
1 Teaspoon Cardamom Powder
¼ Teaspoon Nutmeg Powder
2 Tablespoon Milk Powder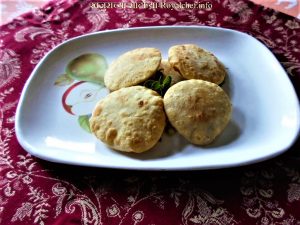 Preparation:
For the Covering: Mix the Refined Flour, Wheat Flour, hot Oil, Salt and enough Water to prepare a thick Dough.
For the Stuffing: Roast the Poppy Seeds, Dry Coconut and prepare a coarse powder.
Roast the Besan along with 2 tablespoons Ghee and keep it aside.
Grind the Dates and mix them with the grounded Sugar, Gram Flour, Poppy Seeds, Dry Coconut Powder, Cardamom Powder, Nutmeg Powder, Milk Powder and prepare a mixture.
For the Puri: Prepare 20 Medium Lemon size balls.
Roll a Ball and insert one tablespoon mixture into it and close it and then roll it into a Puri size shape.
Prepare all the Satoris in the same manner.
Heat the Ghee and deep fry the Satori until the color changes into golden yellow.