This is a Recipe for making at home Cabbage+Fenugreek Leaves+Capsicum Salad. This healthy and nutritious salad prepared using Gobi leaves , Methi leaves and Shimla Mirch is very simple and easy to make and does not take much time and effort to prepare.
The Marathi language version of the same salad recipe can be seen here – Kobi-Capsicum and Shimla Mirch Salad
Preparation Time: 15 Minutes
Serves: 4 Persons
Ingredients
2 Cups Cabbage (shredded)
¾ Cup Fenugreek Leaves (chopped)
1 Small Capsicum (chopped)
1 Teaspoon Black Pepper (crushed)
1 Teaspoon Lemon Juice or as per taste
Sugar and Salt as per taste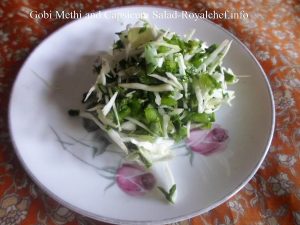 Preparation
Wash the Cabbage and shred it, wash the Fenugreek Leaves and chop them, wash the Capsicum and chop it, crush the Black Pepper.
In a bowl mix the Cabbage, Fenugreek leaves, Capsicum, Black Pepper, Lemon Juice, Sugar, Salt and then serve.