This is a Recipe for making at home spicy Authentic Maharashtrian Style Sprouted Kala Chana Curry or Tikhat Harbharyachi Amti Recipe as this spicy Dal Preparation is called in Marathi.
This Kala Chana Curry, prepared using Sprouted Kala Chana[Whole Bengal Gram/Brown Chickpea] as the main ingredient along with a freshly prepared spicy Masala is a traditional specialty Curry from the Konkan region of Maharashtra. It tastes great with rice or chapatti.
The Marathi language version of this Kala Chana Curry recipe and its preparation method can here – Konkani Harbharyachi Amti
Preparation Time: 30 Minutes
Serves: 4 Persons
Ingredients:
2 Cups Dried Kala Chana
1 Small size Potato
8-10 Cashew nuts
¼ Cup Coriander Leaves
2 Kokum
Salt as per taste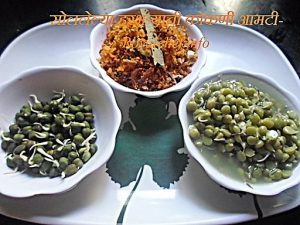 For the Masala:
½ Tablespoon Oil
1 Small size Onion (chopped)
7-8 Garlic Petals
½ Cup Coconut (grated)
1 Teaspoon Red Chili Powder
2 Cloves
1/2" Cinnamon
4 Pepper Corn
2 Green Cardamom
½ Teaspoon Poppy Seeds
½ Teaspoon Coriander Seeds
½ Teaspoon Cumin Seeds
¼ Teaspoon Asafoetida
1 Bay Leaf (small)
For the Tadka:
1 Teaspoon Ghee
1 Tablespoon Onion (chopped)
½ Teaspoon Turmeric Powder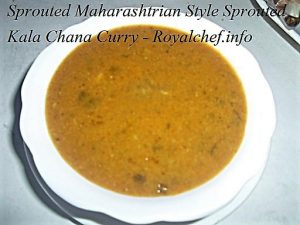 Preparation:
Soak the Kala Chana into the Water for 7-8 hours. Remove the Water and keep them aside for 7-8 hours. Then again soak into the warm Water for 10 minutes. Remove the skin of Kala Chana.
Chop the Onion, Coriander Leaves and remove the skin of Potato and cut into cube size shapes.
While preparing the Rice in the pressure cooker you can also cook the Kala Chana in another container.
For the Masala: Heat the Oil in a Kadai and add the Onion, Garlic, saute for a minute and add the Coconut and saute for a minute and then add all the Masala ingredients. Mix it well and saute for two minutes on a slow flame then keep it aside for cooling and grind the mixture to prepare the Masala Paste.
Heat the Ghee in a Kadai and add the Onion, mix it well then add the Turmeric Powder, cooked Kala Chana, Grounded Masala, a cup of Water and cook for 5-7 minutes on a slow flame. Then add the Salt, Kokam, chopped Coriander leaves , mix it well.
Serve hot with Rice.