This is a simple to follow step-by-step Recipe for making at home tasty and delicious typical Restaurant Style Paneer Mushroom Masala Gravy. This is a thick main course gravy, which can be served with Roti, Paratha or even Fried Rice.
The Marathi language version of the same Paneer Mushroom Gravy recipe can be seen here – Paneer-Mushroom Masala
Preparation Time: 30 Minutes
Serves: 4 Persons
Ingredients
7-8 Mushroom
1 Cup Paneer
¼ Cup Tomato Puree
1 Tablespoon Curd (Dahi)
1 Tablespoon Fresh Cream
1 Tablespoon Cashew-nut-Almond Powder
½ Teaspoon Kasuri Methi Leaves (slightly roasted)
Sugar and Salt as per taste
For the Masala
1 Tablespoon Oil
1 Big size Onion
8 Garlic Petals
1" Ginger Piece
2 Green Chilies
1 Tablespoon Poppy Seeds
2 Tablespoon Dry Coconut (shredded)
2 Teaspoon Red Chili powder (Kashmiri)
1 Teaspoon Garam Masala
For the Tadka
1 Tablespoon Oil
5 Black Pepper Corn
2 Bay Leaves
4 Green Cardamom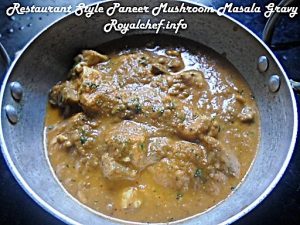 Preparation
Clean, wash the Mushroom and cut them into 4-5 pieces. Boil the Tomato and prepare a Puree. Slightly roast the Kasuri Methi leaves and crush them. Chop the Onion.
For the Masala
Heat the Oil in a Kadai and add the Onion, Ginger-Garlic-Green Chilies, Poppy Seeds, Dry Coconut and fry for 4-5 minutes on a slow flame. Then grind into a think paste.
For the Gravy
Heat the Oil in a Kadai and add the Black Pepper Corn, Bay Leaves, Cardamom Powder, grounded paste, mix it well and fry for 5 minutes on a slow flame.
And add the Tomato Puree, Red Chili Powder, Garam Masala and fry for 3-4 minutes.
Then add the Curd, Salt, mix it well and cook for 2 minutes.
Then add the Mushroom sand add a cup Water and cook for 2-3 minutes.
Add the Paneer, Fresh Cream, Sugar, Cashew nut- Almond Powder, Kasuri Methi and cook for two minutes on a slow flame.
Serve hot with Paratha or Jeera Rice.