This is a simple and easy to follow step-by-step Recipe for making at home tasty and delicious Restaurant Style Butter Chicken. I have prepared this most and famous and popular Chicken dish using fresh cream, tomato puree and Kashmiri Chili Powder as the main ingredients to make a thick and spicy gravy.
The Marathi language version of this Chicken dish recipe and preparation method can be seen here – Tasty Butter Chicken
Preparation Time: 60 Minutes
Serves: 4 Persons
Ingredients
500 Gram Chicken (Boneless)
1 Tablespoon Lemon
1 Tablespoon Red Chili Powder (Kashmiri)
Salt as per taste
For the Marination
1 Tablespoon Ginger-Garlic Paste
1 Cup Yogurt (Curd/Dahi)
½ Tablespoon Garam Masala
2 Tablespoon Mustard Oil
For the Gravy
4 Big size Tomato (Puree)
1 ½ Tablespoon Ginger-Garlic Paste
2 Teaspoon Red Chili Powder (Kashmiri)
2 Tablespoon Cashew nut and Poppy Seeds Paste
1 Teaspoon Coriander-Cumin Seeds Powder
½ Cup Fresh Cream
2 Tablespoon Honey
For the Seasoning
1 Tablespoon Butter
4-5 Green Cardamom
2 Bay Leaves
1 Teaspoon Kasuri Methi
Salt as per taste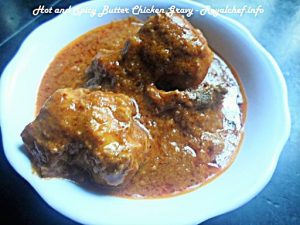 Preparation
Boil the Tomatoes, peal them and prepare a Puree. Clean and Wash the Chicken pieces and place into a container and then apply the Kashmiri Red Chili Powder, Salt and a tablespoon Lemon Juice, mix it well and keep it in the refrigerator for 20-30 minutes.
Remove the Chicken from the refrigerator and add the Curd, Garam Masala, Ginger-Garlic Paste and keep it once again in the refrigerator for 2 hours.
Remove the Chicken from refrigerator. Heat the two tablespoon Oil in a frying-pan and fry the Chicken until it is cooked.
In a Kadai heat the Butter and add the Cardamom, Bay Leaves, Ginger-Garlic Paste, Coriander-Cumin Seeds Powder and saute for a minute. Then add the Tomato Puree and saute for 5-7 Minutes. Add the cooked Chicken and 1 cup of water, mix it well and cook for 5-7 minutes on a slow flame.
Then add the Fresh Cream, Cashew Nut-Poppy Seeds Paste, mix it well and cook for 2-3 minutes on a slow flame. Remove the container from the flame and add the Honey, mix it well.
Serve hot with Bread or Paratha.