This is a simple to apply step-by step Recipe for making at home crispy and spicy authentic Konkani Maharashtrian Style Pomfret Fish Cutlet or Paplet Che Khamang Cutlet, in Marathi. This is very tasty and spicy Fish-Cutlet, which is suitable for the main course of any kind of party or even as a starters snack for cocktail or kitty parties.
The Marathi language version of the same Fish-Cutlet recipe and its preparation method can be seen here – Tasty and Delicious Pomfret Cutlets
Preparation Time: 60 Minutes
Serves: 12 Pomfret Cutlets
Ingredients
1 Medium sized Pomfret Fish
2 Small size Onion
2 Medium size Potaoes
¼ Cup Coriander Leaves
1 Teaspoon Lemon Juice
¼ Cup Coconut (grated)
Salt as per taste
Oil for frying the Pomfret Cutlet
For the Masala (grind)
2 Green Chilies
1/2" Ginger Piece
7 Garlic Petals
½ Teaspoon Cumin-Coriander Seeds Powder
½ Teaspoon Pepper Corn Powder
For the Binding
1 Egg
2-3 Toast (powder)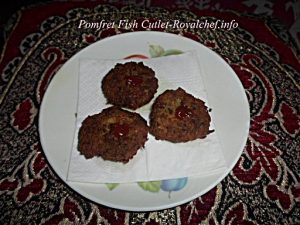 Preparation
Boil the Potatoes. Chop the Onion, Coriander and grind the Ginger-Garlic-Green Chili into a paste.
Clean and wash the Fish and keep it aside.
Take a vessel and add 3-4 cups of Water and keep it on a medium flame.
Keep a strainer over the vessel and then keep the Fish over the strainer.
Cover the strainer with a stainless steel plate and stem it for 10-12 minutes.
Remove the Fish and remove the thorn from the Fish.
Then mash it.
Mix the Fish-Flesh, grounded Masala and the mashed Potatoes.
Heat a teaspoon Oil in a Kadai and add the chopped Onion, saute for 2 minutes and then add the Fish mixture, Salt, Lemon Juice, copped Coriander Leaves.
Mix it well and saute for 2-3 minutes.
Prepare 12 equal sized balls from the mixture and flatten them from the center.
In a bowl take the beaten Egg and another bowl take the Toast Powder.
Heat the Oil in a Kadai and dip one ball in the Egg batter and then roll it into the Toast Powder.
Then deep-fry the Cutlet until the color changes into light brown.
Prepare the remaining Cutlets using the same procedure.
Serve hot.