This is a step-by-step Recipe for making at home authentic traditional Rajasthani Gatte ki Sabzi. The Gatte ki Sabzi, which make the use of Chopped Fried Besan Rolls added to a spicy gravy, which is prepared using a freshly prepared Masala.
The Gatte Ki Sabzi is a famous, most popular and much sought after main course dish in Dhabas & Restaurants, not only in Rajasthan but allover India.
The Marathi language version of this Gatte Ki Sabzi recipe and preparation method can be seen here – Rajasthani Gatte Ki Sabzi
Preparation Time: 45 Minutes
Serves: 4 Persons
Ingredients
For the Gatte
2 Cups Gram Flour (Besan)
2 Teaspoon Coriander-Cumin Seeds Powder
¼ Teaspoon Asafoetida
1 Teaspoon Red Chili Powder
¼ Teaspoon Turmeric Powder
1 Tablespoon Oil (hot)
a Pinch Soda-by-Carb
Salt as per taste
¼ Cup Oil for frying the Gatte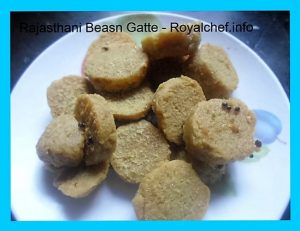 For the Gravy
2 Big Size Onion
1 Cup Curd
2 Medium Size Tomato
1 Teaspoon Red Chili Powder
1 Teaspoon Garam Masala
1 Cup Coconut (shredded)
Salt as per taste
For the Tadka
1 Tablespoon Oil
1 Teaspoon Mustard Seeds
¼ Teaspoon Asafoetida
¼ Teaspoon Turmeric Powder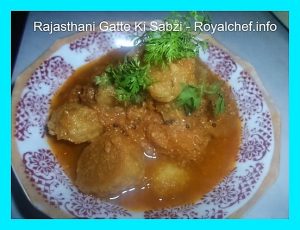 Preparation:
Shred the Onion, boil the Tomato and prepare a Puree, grind the Coconut into a paste.
For the Gatte: Mix the Gram Flour, Coriander-Cumin Seeds Powder, Asafoetida, Red Chili Powder, Turmeric Powder, hot Oil, Salt, Soda-by Carb and mix it well. Then add some Water and prepare a thick Dough and prepare five-six equal sized round rolls.
Take two glass of water in a Vessel and boil it. Then add the Besan Rolls into the boiling Water and cook the Rolls for 10-12 minutes on a medium flame.
Remove the balls from the vessel and keep them aside for cooling. After cooling cut the Rolls into thin slices.
Heat the Oil in a Kadai and add the slices of Gatte and fry them until they become crispy or light brown. Then Remove the Gatte from the Kadai.
In a remaining Oil add the Mustard Seeds, Asafoetida, Turmeric Powder, shredded Onion and saute till the Colour changes into light brown then add the Curd and saute for a minute. Add the Tomato Puree and saute for 2-3 minutes.
After that add the Red Chili Powder, Turmeric Powder, grounded Coconut, Garam Masala, Salt and 2 cups Water, mix it well and cook for five-seven minutes.
When Gravy will start to boil add the fried Gatte and mix it well, cover the Kadai with a stainless steel plate and cook it for five-seven minutes on a slow flame.
Serve the Gravy with Paratha or Chapatti.