This is a simple to implement step-by-step Recipe for making at home traditional and authentic Maharashtrian Style Khamang Bhajke Pohe Chivda for Diwali Faral. Flattened Rice Flakes, which are roasted in a Bhatti[ Furnace] are called as Bhajke Pohe.
The Bhajke Poha Chivda is one of the more popular varieties of Chivda, it can also be served as a snack and tastes great when garnished with coriander, tomatoes and onions.
The Marathi language version of this Bhajke Pohe Chivda recipe and preparation method can be seen here – Khamang Chivda
Preparation Time: 60 Minutes
Serves: ½ Kg
Ingredients
¼ Kg Bhajke Pohe
2 Cups Ground nuts
2 ½ Cup Dry Coconut (cut into thin slices)
1 ½ Cup Pandharpuri Dal
1 Tablespoon Sugar Powdered [Pithi Sakar]
For the Tadka
1 ½ Cup Oil
1 Tablespoon Mustard Seeds
1 Tablespoon Cumin Seeds
20-25 Curry Leaves
1" Ginger Piece
12 Garlic Piece
10 Green Chilies
1 Tablespoon Coriander-Cumin Powdered
1 Teaspoon Turmeric Powder
1 Teaspoon Red Chili Powder
1 Tablespoon Kasuri Methi (dried)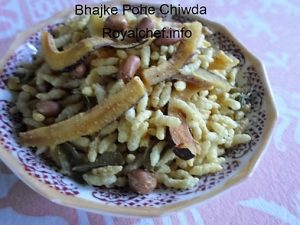 Preparation
First of all clean the Bhajke Pohe, grind the Ginger-Garlic-Green Chili, cut the dry Coconut into thin stripes/ slices.
Heat the Oil in a Kadai and add the Mustard Seeds, Cumin Seeds, Ginger-Garlic-Green Chili Paste, Kasuri Methi, Curry Leaves and saute for a minute.
Then add the Coriander-Cumin Powder, Peanut, Dried Coconut Slices and saute for 2-3 minutes.
Then add the Red Chili Powder, Turmeric Powder, Pandharpuri Dal, Salt and mix it well. And add the Bhajke Pohe, grounded Sugar, mix it well and fry for 2-3 minutes on a slow flame.
After the Bhajke Pohe Chivda cools down store it in a tight container.
While serving the Chivda as a snack you can garnish it with chopped Onion, Coriander and Tomato.