This is an easy to implement step by step Recipe for making at home simple, yet tasty Quick or Zatpat Stuffed Idli Sandwich.
This homemade Stuffed Idli Sandwich makes the use of a freshly prepared Green Chutney along with tomatoes, cucumber and cheese stuffings to make the Idli Sandwich a welcome dish for breakfast, snacks or the tiffin boxes of school going children.
The Marathi language version of the same Idli variation recipe and preparation method can be seen here – Simple Idli Sandwich
Preparation Time: 25 Minutes
Serves: 6-7 Persons
For the Idli
2 Cups Rice (Boiled)
1 Cup Black Gram Dal (Urad Dal)
¼ Cup Idli Rawa
2 Tablespoon Sesame Oil
Salt as per taste
Oil for Idli preparation
For the Chutney
1 Cup Coconut (Grated)
¼ Cup Coriander Leaves
¼ Cup Mint Leaves
7-8 Petals Garlic
3 Green Chilies
1 Teaspoon Lemon Juice
½ Teaspoon Sugar
Salt as per taste
3 Medium size Tomatos
2 Medium size Cucumbers
3 Cheese Cubes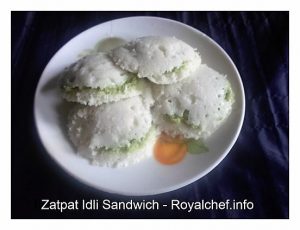 Preparation
For the Idli
For the preparation of Idli soak the Rice and Black Gram separately for 7-8 hours. Then remove the excess Water and grind the Rice and Urad Dal into a slightly thick paste. The Idli Batter should be not Watery. Pour the Batter into a big sized Vessel and cover with a plate. Keep the Batter aside for 7-8 hours.
Peal the Cucumber and cut into round sized shapes. Cut the Tomato slices, shred the Cheese or cut into thin slices.
While preparing the Idli add the Salt and 2 tablespoon Sesame Oil and mix it well.
Heat the water in a pressure cooker after removing the whistle. Apply the Oil over the Idli Mold and pour the Batter into the Idli Mold according to the size of the Mold.
Insert the Idli stand into the pressure cooker and close the pressure cooker with a lid and steam the Idli for 15 minutes on a medium size flame.
For the Chutney:
Mix the grated Coconut, Coriander Leaves, Mint Leaves, Green Chilies, Garlic, Lemon Juice, Sugar, Salt, ¼ cup Water and grind into a thick paste to prepare the Chutney.
For the Sandwich:
After preparing the Idlis keep them aside for cooling. Then slit each Idli and divide it into two portions. Apply the Chutney over one side of the Idli and keep the slices of Tomato, Cucumber and Cheese over it and close the Idli with the other portion. Prepare all Idli Sandwiches using the same procedure.
Serve with Tomato Sauce.