This is a step-by-step Recipe for making at home crispy and spicy authentic Maharashtrian Style Kadboli, a traditional snack for Diwali Faral, which is especially popular in the Konkan region of Maharashtra.
In this article, I given the complete start to finish method of preparing the Kadboli, including the preparation method of the flour from which the Kadboli is prepared. This flour is called as the Kadboli Bhajani or Kadboli Aata.
The Marathi language version of the Kadboli recipe and preparation method can be seen here – Khamang Kadboli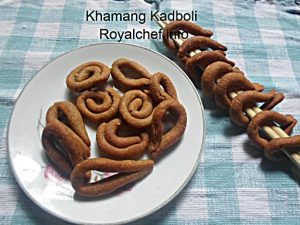 For the Kadboli Flour
Preparation of Kadboli Flour Time: 30 Minutes
Serves: 2 Kg Flour
Ingredients:
½ Kg Pearl Millet – Bajra (4 cups)
¼ Kg Rice (2 cups)
¼ Kg Gram Dal – Harbara Dal (2 cups)
½ Kg Sorghum – Jowar – (2 cups)
¼ Kg Wheat Flour (2 cups)
125 Gram Black Gram – Kale Urad (1 cup)
125 Gram Coriander Seeds (1 cup)
Preparation:
Roast the Pearl Millet, Rice, Gram Dal, Sorghum, Wheat Flour, Black Gram and Coriander Seeds separately. Cool them and then grind them to a thick flour, preferably in a flour mill.
Tips for making the Kadboli Bhajni Aata
Roast all the grains on a low flame.
The Bhajni Flour should be coarse as this make the Kadboli spicier.
Store the Bhajni in a plastic bag and close the bag tightly, this increases the durability period of the Bhajni to about 5-6 months.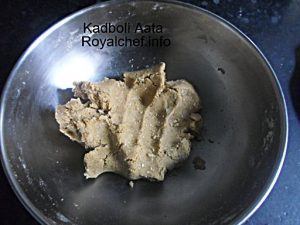 For the Kadboli
Ingredients:
Preparation of Kadboli: 60 Minutes
Serves: 30-35 Kadboli
2 Cups Kadboli Bhajni Flour
2 Teaspoon Red Chili Powder
2 Teaspoon Salt
2 Tablespoon Sesame Seeds
1 Teaspoon Parsley
¼ Cup Oil (hot)
1 Cup Water (hot)
Oil for frying the Kadboli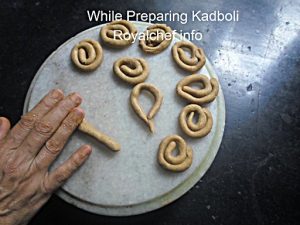 Preparation:
Mix the Bhajni Flour, Red Chili Powder, Salt, Sesame Seeds, Parsley, hot Oil, and hot water and prepare a Dough and keep it aside for an hour.
Before preparing the Kadboli knead the Dough well by using little bit of water. Then prepare small lemon sized balls from the Dough and roll the Dough balls into round and long shapes then fold them and press both the ends. (see the preparation photo) Prepare all Kadboli in the same procedure.
Heat the Oil in a Kadai and deep fry the Kadboli for approximately 8-10 minutes on a slow flame till the color changes into brown. Deep fry all Kadboli and keep them aside for cooling.
After the Kadbolis cool down, store them in an airtight Container.
Tips while making the Kadboli
Do not use Bhajni, which is more than 5-6 months old.
Roll the Kadboli into thin shapes so as to make sure that it is fully cooked.