This is a very simple and easy to implement Recipe for making at home sweet and delicious Vrat Ke Chawal Ki Kheer. Vrat Ke Chawal are known as Barnyard Millet in English and Samvat Rice in the Hindi language. This Kheer is a popular Fasting Days dish as it is healthy, filling and wholesome.
The Marathi language version of this Kheer recipe and it preparation method can be seen here – Varai Chi Upvasachi Kheer
Preparation Time: 20 Minutes
Serves: 4 Persons
Ingredients
1 Cup Vrat Ke Chawal
½ Liter Milk
¾ Cup Sugar
1 Tablespoon Ghee
1 Teaspoon Cardamon Powder
Assorted Dry Fruits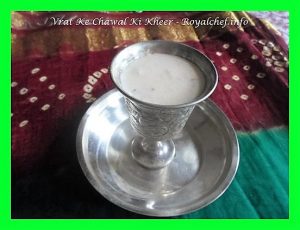 Preparation
Wash the Vrat ke Chawal and spread them on a clean cloth for 30 minutes for drying.
Heat the Ghee in a Kadai and add the Vrat Ke Chawal and roast them until the colur changes into light brown.
In another pot mix the Milk and Sugar and boil it until the Sugar dissolves.
Then add the Vrat Ke Chawal and mix it well and cook on a slow flame until it is done.
Then add the Cardamon Powder, Dry Fruits and mix it well and keep it aside for 10-20 minutes.
Then serve.