This is a very simple to implement Recipe for preparing at home sweet, light and tasty Churmura Ladoo. This Puffed Rice or Murmura Ladoo is simple and easy to prepare and is a handy snack to have in the house.
The Marathi language version of this Ladoo recipe and preparation method can be seen here- Churmura Ladoo
Preparation Time: 30 Minutes
Serves: 20 Ladoo
Ingredients
1 Cup Jaggery
3 Cups Churmure
¼ Cup Peanuts
¼ Cup Pandharpuri Dal
1 Teaspoon Cardamom Powder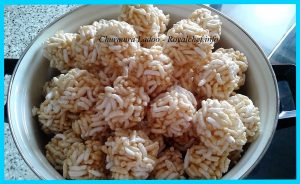 Preparation
Roast the Peanuts, peal them and break them into medium size pieces.
Heat a Kadai and add the Jaggery, when Jaggery will start to melt add the Cardamom Powder and mix it well and then add the broken Peanuts, Pandharpuri Dal and Churmure.
Mix it well and prepare medium size Ladoos.
When the Ladoos cool down store them into an airtight container.