This is a simple to follow step-by-step Recipe for making at home Upvasache Sabudana ladoo, a special Maharashtrian Style Ladoo preparation, especially for the fasting days.
The Marathi language version of this Sabudana Lodoo recipe and its preparation method can be seen here  – Sabudana Ladoo for Upavas
Preparation Time: 40 Minutes
Serves: 4 Persons
Ingredients
1 Cup Sabudana (Puffed Sago)
2 Tablespoon Poppy Seeds (khas-khas)
1 Cup Ground Nuts (roasted and roughly grounded)
1 Cup Dry Coconut (shredded)
1 ½ Cup Jaggery
2 Tablespoon Ghee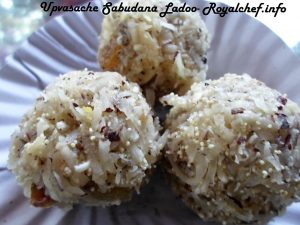 Preparation
Take the Puffed Sago.
Roast the Peanuts and peal them and roughly grind to make a thick powder.
Roast the Poppy Seeds slightly.
Roast the shredded Dry Coconut slightly.
In a bowl take the Puffed Sago, Peanuts, Poppy Seeds, Dry Coconut and nicely mix them together.
In a Kadai add the Jaggery and prepare a thick slightly sticky syrup.
And add the Ghee, mix it well and then add the Sago mixture, mix it well and prepare medium size Ladoos.
When they cool down store them into an air tight container.