This is a simple to understand and implement Recipe for making at home tasty and delicious Fruit Juice Stall Style Fresh Orange Melody. This is a fruit juice prepared using fresh Oranges as the main flavoring ingredient.
The Orange Melody juice is quick and easy to prepare once you have all the ingredients in place.
The Marathi language version of this special Orange Juice can be seen here- Orange Melody
Preparation Time: 15 Minutes
Chilling Time: 2 Hours
Serves: 4 Persons
Ingredients
6 Oranges – Big Sized
½ Cup Water
1" Ginger Piece
१/२ Cup Sugar
2 Lemon Big Size (Juice)
10-12 Ice Cube (crushed)
2 Cups Chilled water or Chilled Soda
For Garnishing Mint Leaves and Orange pieces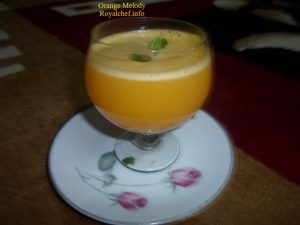 Preparation
Prepare Orange Juice by peeling and blending the Oranges in a blender.
Shred the Ginger and blend with half cup of Water and strain the Juice.
In a vessel mix the Ginger Juice, Sugar, ½ cup Water and heat them for two minutes on a slow flame. Remove from the flame and keep it aside for cooling.
Then mix the Orange Juice, Lemon Juice and keep it chilling.
While serving fill the half portion of glass with prepared Orange Juice and add the crushed Ice over it and then pour the chilled Water or Soda and garnish with Mint Leaves and Orange slices.