This is a Recipe for making at home tasty and delicious Cashewnut-Khoya Modak or Kaju–Khava Modak as an offering to Ganesha during Ganesh Chaturthi or Sankashti Chaturthi. This Modak variation prepared by me using Cashew-Nuts and Khoya as the main ingredients is sure to be a hit with everyone, especially children.
The Marathi language version of the same Modak recipe can be seen here- Kaju Modak
Preparation Time: 30 Minutes
Serves: 20 Modaks
Ingredients
2 Cups Dried Whole Milk (Khoya-Mawa-Khava)
1 Cup Cashew Nuts
1 ½ Cup Sugar (grounded)
1 Teaspoon Cardamom Powder
¼ Cup Milk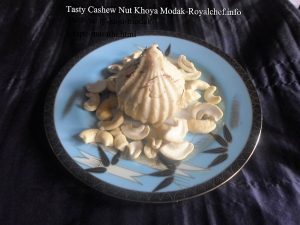 Preparation
Soak the Cashew nuts in the Milk for an hour and then grind them in a mixer to prepare a paste.
In a Kadai slightly roast the Dried Whole Milk on a slow flame and then add the grounded Cashew Nut paste and grounded Sugar Powder. Mix it well and fry it till it become a thick mixture. Remove from the flame and keep it aside for cooling.
After the mixture cools down add the Cardamom Powder, mix it well and prepare small balls from the mixture and then given them a Modak Shape with your hands, you can also use a Modak Mould for this purpose.