This is a very simple to follow step-by-step Recipe for making at home Tasty and Healthy Green Gram Dosa, especially for the tiffin boxes of school going children. This simple and easy to prepare Dosa is not only good to taste, but also healthy and nutritious for the health of your child.
Another method of making this Dosa using slightly different ingredients can be seen here- Sprouted Moong Dosa for your Children
The Marathi language version of this Dosa recipe and the preparation method can be seen here- Healthy Moong Dal Dosa
Preparation Time: 40 Minutes
Serves: 4 Persons
Ingredients
2 Cups Green Gram Dal (Moong Dal)
½ Cup Rice
4-5 Green Chilies
2 Medium Size Onion (finely chop)
¼ Cup Coconut (grated)
½ Cup Coriander Leaves (chopped)
¼ Teaspoon Asafoetida
Salt as per taste
Oil for shallow fry the Green Gram Dosa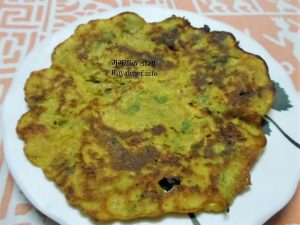 Preparation
Soak the Green Gram Dal and Rice separately for 2 hours.
Then grind the Gram Dal, Rice and Green Chilies into a thick paste.
Then add the Salt, grated Coconut, Asafoetida, Coriander Leaves, chopped Onion and mix it well.
The Dosa Batter should be of a dropping consistency.
Heat a Non-stick Tawa and apply a teaspoon of Oil over the Tawa. Then pour about ½ cup Dosa Batter over the Tawa and spread it evenly and shallow fry the Dosa till the color changes into light brown.
Serve hot with Tomato Sauce or Coconut Green Chutney.