This is a simple to follow step-by-step Recipe for making at home spicy Tomato-Carrot Puri or Gajar-Tamatar Ki Puri as this Puri is called in the Hindi language. This healthy Puri can be a great breakfast or tiffin box dish for school going children.
The Marathi language version of this Puri recipe and preparation method can be seen here – Tomato-Gajar Puri
Preparation Time: 45 Minutes
Serves: 20 Puris
Ingredients
2 Cups Wheat Flour
2 Big Size Tomatoes
1 Big size Carrot
2 Teaspoon Red Chili Powder
1 ½ Teaspoon Chat Masala
1 Teaspoon Sugar
2 Tablespoon Oil (hot)
Salt as per taste
Oil for deep frying the Puris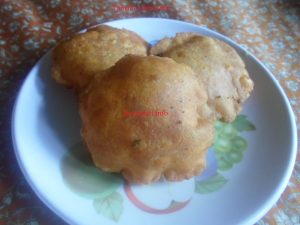 Preparation
Wash the Tomatoes, boil and peal them. Then prepare Tomato the Puree and keep it aside.
Shred the Carrot.
Mix the Wheat Flour, Shredded Carrot, Red Chili Powder, Chat Masala, Sugar, Salt and Hot Oil.
Then add the Tomato Puree and prepare a thick Dough and keep it aside for 10-15 minutes.
Divide the Dough into 20 equal sized balls.
Roll the balls into Puri size shapes.
Heat the Oil in a Kadai and deep fry the Puries till they become crispy.
Serve hot.