This is a step-by-step recipe for making at home spicy and delicious Chicken Gravy in Coconut Milk or Murgh Salan in Nariyal Ka Doodh. This tasty Chicken Gravy makes the use of Coconut Milk and a freshly prepared Garam Masala as the main ingredients.
Preparation Time: 45 Minutes
Serves: 4-5 Persons
ingredients
One Chicken- Cut into medium sized pieces
Two Cups Coconut Milk
Two Large Onion[sliced into small pieces]
Eight Green Cardamons[Hari Elachi]
Four Red Chills[Lal Mirchi]
One tablespoon Dhania[Coriander Seeds]
Six Pepper Corns [Kali Mirch ke Dane]
Three Centimeters Dalchini[Cinnamon]
Six Cloves[Laung]
One teaspoon Haldi[Turmeric Powder]
Four tablespoons Ghee
Salt and Pepper as per taste and requirement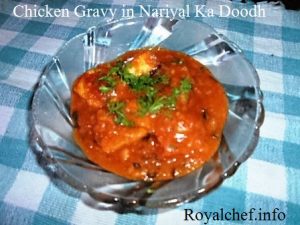 Preparation
Take the Cardamons, Cinnamon, Cloves, Red Chills, Coriander Seeds and Peppercorns and grind them to make a fine Garam Masala Paste.
Take the Chicken pieces and prick them with a fork and nicely apply the Salt, Pepper and Haldi on the Chicken Pieces.
Add the Ghee[Vanaspati] in a Kadai and fry the Onions until they are browned.
Then add the Grounded Masala and fry for about 3- 4 minutes, while stirring at regular intervals.
Then add the Chicken Pieces and Salt as per taste and mix it nicely and let it simmer on a medium flame until the Chicken is half cooked.
Then add One Cup of the Coconut Milk and cook until the Chicken is almost cooked.
Then, finally add the Second Cup of Coconut Milk and cook for 5-6 minutes until the Chicken is fully cooked and the Ghee comes to the surface of the Chicken Gravy.