This is a simple to implement step-by-step Recipe for making at home sweet and tasty authentic Assamese Style Dil Pasand. This s a stuffed Puri like traditional sweet dish from the Indian state of Assam, which specially prepared for special occasions and festivals.
Preparation Time: 60 Minutes
Serves: 15 Numbers
Ingredients
For the Covering
2 Cups Refined Flour
2 Tablespoon Sugar
A Pinch Soda-by carb
For the stuffing
3 Cups Coconut (grated)
1 Cup Dried Milk (Khoya)
1 Cup Sugar
20 Raisins
6 Almonds, Cashew nuts and Pistachio (each) (crushed)
Ghee for frying the Dil Pasand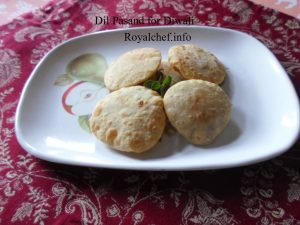 Preparation
Mix the Refined Flour, Sugar, and Soda-by carb and water and prepare a Dough. Grate the Coconut.
In a Kadai mix the grated Coconut and Sugar and cook until it become dry. Then add the Khoya and dry fruits and cook for two minutes. Then keep it aside for cooling.
Prepare fifteen balls from the Dough. Roll the Dough Balls like Puris and fill a tablespoon of the Coconut Mixture and close the Puris and then roll it slightly.
Heat the Ghee in a Kadai and deep fry the Puri until its color changes into light Brown.